Children's Lunches fpr School or home!!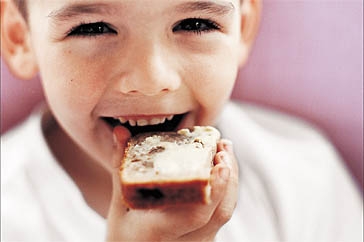 Australia
February 23, 2007 5:19pm CST
* 100g unsalted butter * 1/2 cup firmly packed (100g) brown sugar * * 4-5 bananas (450g total), mashed * 3 tbs (1/4 cup) natural yoghurt * 1 tsp vanilla extract * 1 2/3 cups (250g) plain flour * 1 tbs baking powder * 1/2 tsp ground cinnamon * 1/2 cup walnuts, toasted (optional) Method Preheat oven to 170°C (not fan-forced) and grease a 900ml loaf pan. Beat butter and sugar in a bowl using electric beaters until thick and fluffy. Add banana, yoghurt and vanilla extract and stir. Sift together flour, baking powder and cinnamon and fold through batter. Stir in walnuts if using. Pour into pan and bake for 1 hour or until a skewer inserted in centre comes out clean. Cool in pan for 10 minutes, then turn onto a rack to cool completely. Serve buttered, if desired. Notes & tips It freezes well too.
2 responses

•
26 Feb 07
this looks brilliant and just so quick and easy , my youngest granddaughter will love to make his on her next visit , thanks , and all the things we would have in the cupboards anyway xxx