Occassions, How to Limit Guests Without Hurting Their Feelings?

Philippines
February 23, 2007 7:23pm CST
My daughter will be turning one this September. I know it's a long way but I'd like to have a head start. I am working on a limited budget and since my daughter is the eldest grand child on both mother and father side, relatives alone comprise the VEEERRRRRRy LOOOOOONG list. I'd like to make it really simple yet special. My daughter's character bug is a bumblebee. So I have already started cutting little bumblebee pictures as trimmings. I like crafts and that's another way to save on decorations. Besides my daughter will only have a good laugh at it when she's able to understand. So, I'm still looking for a place to celebrate preferably free of charge or minimal. Then of coursethere the children's party food. I plan to make the trimmings, invitations and giveaways myself. That should save me alot of bucks. The thing is, listing down all the relatives along with their children plus the sponsors of my daughter and some of our friends, we keep totalling 150pax. Counting per head for food it would really cost us alot. I am having a hard time trimming down my list with the fear that I might hurt some people who have been volunteering themselves for the occassion. Now my question is, How do I trim my list without hurting anyone? Am I being rude about the honesty I am exhibiting about my budget? Is there any measures I can take to accommodate evrybody without hurting my budget? Please advise. Thanks:)
5 responses

• Grand Junction, Colorado
24 Feb 07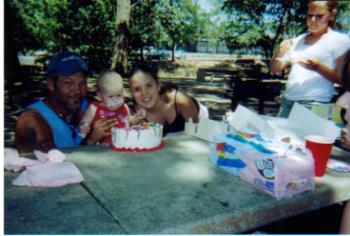 I'm familiar with big families and how expensive it can be. Since the birthday is in September I would say at least here the weather is beautiful and the parks are free. I would ask the grandparents to help on the food like the main dish, as grandparents usually love this kind of stuff. I would ask other attending guests to bring a side dish. That way their is plenty of food but your not footing the bill for the whole thing and having to cut people from the list. This way all can come and enjoy. I have thrown some large parties and this has worked well. People love to show of their talents. First birthdays are fun but can be stressful trying to accomadate all. Take a deep breath and see if you can enlist the help of close family to help with the preparations. I included a pic of my youngest at the park for her fisrt b-day! I hope this helps. :)

• Grand Junction, Colorado
9 Mar 07
Thank you for the best response award. I hope that my advice works as well for you as it has for me! :)

• United States
24 Feb 07
I think that the best way is to call over a few relatives that are really close, for example about 10 or 20, and make a "celebration committee" where they help you a few hours a day or so to get ready for the celebration. This way you're saving money and you're able to get everything done and cook for everyone without too much stress. Either that or be really really formal and send out a formal invitation and everything (sort of like a wedding) where you ask the participant to pay a certain amount of money for participating. I know that is not a great way to do it with relatives but that could be an idea. Another idea is to say that this celebration is a potluck. Each family could bring one course of food, that way all you have to worry about is the decorations. I hoped I helped and I hope my ideas aren't that ridiculous!

• Philippines
3 Mar 07
Hey, same here, need to limit guests for occasions because i dont have enough budget sometimes, and needs to budget this time because of the high price. What i did is, to those who knows that occasions, they are the people whom i invited, but to those who doesn't know they dont have the invitation. And sometimes, if it's my baby's birthday, i only invite her godmothers and godfathers and other children in neighbor. And if my birthday, it's only my closed friends i invited so i dont have headache when it comes to budgeting.

• United States
2 Mar 07
I would ask for donations. Or ask for help. But if they do not want to contribute to your daughter party. Then no it should not hurt anyone with you trimming your list because you are on a tight budget how can you do anything more powerfully if no one want to contribute to your party. You have to do what you have to do. At that age you have to set limits because yu have to celebrate with her so that they will remember it at that age.