Traveling by train

United States
9 responses

• New York, New York
24 Feb 07

I like train travel too but Amtrak prices are too expensive. I can find cheaper plane fares on JetBLue than the price of a train ticket. I think more people would travel by train if they weren't so greedy with the high prices of tickets.

• United States
24 Feb 07
That's true---it's sometimes cheaper to fly than to go by train; and it saves time to fly, as well! Fewer and fewer Western people are using trains now, and that is why the ticket prices keep going up. It's not necessarily greed on the part of the railroad companies. A lot of it is just that, once people started flying more, railroad companies started taking a big financial hit.

• New York, New York
24 Feb 07
Very true what you say and the thing that annoys me about Amtrak is that it is not a privately owned company, our government owns it and they couldn't give 2 craps if we can afford it or not.

• United States
24 Feb 07
Really...? I didn't know that the government owns Amtrak.... I do know that public transportation prices keep going up because people keep voting against tax increases which are supposed to help funding. That's a real problem in many communities.


• Bulgaria
24 Feb 07
I have never been traveling with a plane, because i don't travel much, just in my country(i have never been abroad). Bulgaria is not a big country and i don't need a plane to travel. I have traveled many times with train and i prefer it from traveling with a car or a bus. Train traveling has it's pros and cons. If you travel for a long time with a bus you might get a motion sickness(i believe it's called that), but with a train you cannot. In my country the roads are in bad condition. There are many holes on the road, so if you want a smooth travel you would choose a train instead of a car. Trains are not perfect, they are slower than the other means of transport. But if you are not in a hurry, going to a vacation or something like that traveling by train is your best choice.

• United States
24 Feb 07
I can get motion sickness on trains if I am riding backwards....

• United States
24 Feb 07
That's probably true, but who wants to take a long train-trip if you can't look out the window?


• United States
25 Feb 07
When traveling long distance by train and you have to make changes from one train to another do you find that its frustrating or difficult?

• United States
2 Mar 07
Hi there, when I travel by train I have direct connections. Where I want to go, I am on that train when I leave. I have never had a problem. Do you have problems with changes? I live in NY and travel to other states without a problem. Thanks for your response...

•
24 Feb 07
I much prefer trains to planes. In fact I am a very nervous flyer, and try to avoid it as much as possible. The trains in Europe, are cheap, and reliable, and now we have the Channel Tunnel between the UK, and France, I can get from London to Paris in just two hours.

• United States
24 Feb 07
I like the train, too, but I'd much rather fly. I like the feeling of being off the ground, above most of the rest of the world, and planes can get you 1) to more places and 2) where you are going faster I have also taken the train to work a lot, so the novelty of most train-travel has really worn off.

• United States
3 Apr 07
Hi tsgirl01! LOL, Besides the trains at amusement parks, I haven't ridden on a real train since I was about 4, when my grandmother took me. She said I enjoyed myself, but I can't really remember. She really likes riding AmTrak though and even at the age of 79, likes to make plans for her next train trip to Canada. With the majority of my family in the same state (Texas) we usually drive. If we need to go longer distances though, the urgency of the trip is usually our determining factor, so we have a tendency to fly on some occasions.

• United States
11 Apr 07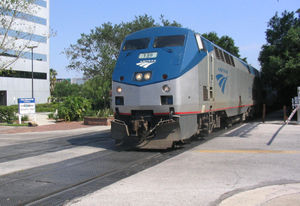 Hi there paidreader, how are you? It must be nice to travel all the time by car, you can stop and go as you please. But I do love the train and Grandma has the right idea too. I would love to travel to Canada on the Amtrak train. Too bad you don't remember your train ride, you were very young. But I hear that most children love riding on the trains. I know my grandchildren do...Thanks for responding, take care...

• United States
24 Apr 07
I've never traveled by train and mind you I have never traveled by plane either.I would love to ride on a train someday,seems like fun.Take care.

• United States
19 Apr 07
i absolutely love traveling by train more than plane. trains... you get to see everything. its an experience. you get to meet people and see new places, and travel across the land rather than flying over it. i would choose a train over an airplane any day.

• United States
18 Apr 07
I'm a train buff. I rather take it than a plane if it is going to the destination I am heading. AmTrak has reduced its destinations so much there arent many to choose from anymore. Though the plane is faster, I like to watch the scenery, walk about the train and relax in the comfy recliner chairs.