Problem with MS Dos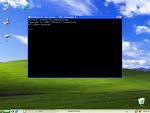 United States
February 24, 2007 4:35pm CST
Whenever i open MS Dos programme or CMD, computer automatically shut down .Why this is so ?
3 responses

• India
18 Aug 07
hi, i think ur computer is infected by some virus mainly system 32 files r corrupted. i resolved this type of problem many time . first install latest anti-virus in ur computer then scan thru it . if its doesnt resolve ur problem then dear format it nd then install it again

• India
9 May 07
I think your computer is infected by the virus called brontok. The only way to remove is it to format your computer.

• India
24 Feb 07
I guess there is a .bat file in your computer which invokes the shutdown -s option when u open the command prompt else i feel there is no other reason why ur computer should get shut down.. or may be there might be some kind of virus infected with ur command prompt ..i would suggest u install some good antivirus like mcafee,norton and check ur system for all bugs with cmd...and then message me if problem persists...