I think my cat has gone blind

Canada
February 25, 2007 1:53am CST
She is 21. She bumps into walls everynow and then but still gets around okay. She is so affectionate. She seems to be able to play with string now and then. Is there a way to tell if a cat has gone blind. The vet says she has no cataracts and her eyes look clear.
5 responses

• United States
27 Feb 07
Sounds like she is going blind. Long as she gets around fine, you shouldn't have anything to worry about. Just make sure you NEVER move her litterbox, food/water dishes. Once you move them, she will have difficulties finding them again even after showing her where they are at. Treat her like you would treat a blind person. Don't move things around on her, watch where you step so you don't accidently step on her. I had my Lab of 12yr. put down last Aug. cause his arthritis advanced to the point that pain meds weren't helping. He couldn't see/hear anything beyond 15' so I made sure he got where he wanted to go w/o any accidents. Your cat may live another 5+ years and still be happy. Wish my dog was able to do that.

• United States
28 Feb 07
Thank you for choosing my response as best answer. :-)

• Canada
25 Feb 07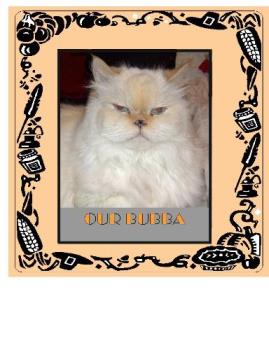 One of my cats is 12 years old she has had cataracts since she was 1 year old, she seems to see fine. Your cat is very old it may not be that it cannot see it may be that it is just old and loosing its coordination. This is very old for a cat I am sure it has given you a lot of love through out the years . I hope all my cats will be around that long.

• Canada
25 Feb 07
yes my cat has given me lots of love and entertainment and comfort through the years. I owe it to her to give her the best life possible. She is spoiled with a bed right by the heater, catnip, wet cat food brought directly to her, and she has her own water fountain that she drinks out of.

• United States
25 Feb 07
You say her eyes are clear, but please clarify how exactly do her puples look? Eyes being clear can be the color is unchanged, its not milky ect. If her puples look different its possible. Also you can take a flashlight and shine it on her puples, see if they dialate. Its possible with her advanced age that she is going blind, there isnt much you can do if thats true, besides make sure she gets around easy, can always find her litter and food, Even if that means you taking her to them. Ive never had a blind animal before, but im sure that they can still have a good quality of life.

• Canada
25 Feb 07
thanks for your response. I'm looking for a flashlight and will try what you said.


• United States
25 Feb 07
Sighs and tears. have you ever considered yourself fortunate that you still have her with you? No offense but I see so many Q's and Not a single reference "I TOOK HER TO A VET!" GET ANOTHER VET OPINION gee......... It certainly could be neurological, age deficiencies, brain deterioration, Physicalities of an animal 21 years old. At 21 years old, for her, she has likely lived 2 or 3 of your lifetimes, could you not consider perhaps that at 100 plus years old you might be blind? I didn't mean to be blunt, but I'm so intune with OUR "other" species,I can't imagine disregarding their issues. Steven Wolf