Whar r u?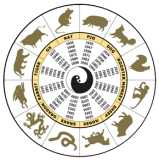 United States
February 25, 2007 4:07pm CST
Are you a snake, cock, rat, dog, ect. What r u according to the chinese zodiac?
3 responses

• United States
25 Feb 07
I fall under the year of the horse, actually it says for 1966, it's the fire horse. HAHAHA The page I just went to for confirmation says I should most definately not marry a rat. LOL, My husband of almost 23 years falls under the year of the rat!

• Philippines
12 Apr 07
i'm a dog... Dog Overview Time to kick back and enjoy life with the Pig. This has the potential to be a very favorable year in many areas. The Dog is generally though of as the protector, but this year the tables are turned. It is the Pig that is watching over you and sending luck your way. Dog Rating 64% (10 favorable and 2 unfavorable months) Dog Career This is a good time to change careers if that is what you have been thinking of doing. Lucky stars smile upon those who begin a new business venture. It is generally a favorable time for all. Dog Relationships The Pig is the complementary sign to the Dog. There will be a number of opportunities to make new friends and associates who can help you in your career and also make your personal life more fulfilling. Dog Health As with last year, you should enjoy reasonably good health -- as long as you take the normal precautions. It's a Fire year, though, so accidents could pose a problem. Dog Wealth A windfall could very well be yours. It may not be a jackpot, but unexpected money is coming your way.

• Hyderabad, India
25 Feb 07
i have no idea about chinese zodiac signs