Does LOve Hurt or makes us happy!!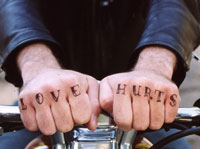 United States
February 25, 2007 5:00pm CST
I feel It all depends on how we handle the situation...!!! Most of them say love ruined my life or it hurted me badly.......but dont u think u r responsible for that!! I mean i feel soo??? wat are ur opinions!!
No responses