So, when am i going to see any sign of earnings?

United States
February 25, 2007 5:03pm CST
how long does it take for me to see any kind of earnings on my 'myLot earnings'? i created my account 8 hours ago, and it said that the earnings were updated an hour ago when i first registered. it now says that it has been 9 hours. does anyone know if its in any kind of routine order or what?
8 responses

• United States
25 Feb 07
You will not see the earnings amount in your account until sometime tomorrow. It usually takes 24 hours for your earnings to show up, even if it is says it updated an hour or several hours ago. All earnings and updates should reflect in your account tomorrow morning sometime.

• United States
26 Feb 07
Welcome to mylot. I think yu will have a great time here. Dont worry the earnings are updated once everyday. You can see them right abuve your interests. You might have joined after the earnings were updated and therefore you are getting that message. By this time probably you might have seen your updated earnings.

• India
26 Feb 07
Hi freind, welcome to mylot, well friend mylot updates earning once in a 24 hours,so your earning will be updated after 23 hours only as you registered just after a hour from earning updation, well keep posting good and quality response to discussions, keep uploading photos, which will boost your earning, best luck and happy earning!!!

• Hong Kong
25 Feb 07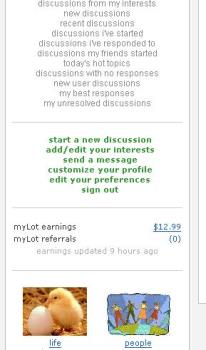 The earnings will be updated every 24 hours. According to my observation the update takes place at around 9 pm to 10 pm Hong Time. The figure will be shown at the middle of the left column. Sometimes you earning is also shown at the top right corner of the screen.

• United States
25 Feb 07
it takes one day to see your earnings for today

•
25 Feb 07
Provided you reach the minimum payment you opted for, i.e. $10 or whatever, you will be paid on the 15th March. If you don't reach it by then, you will be paid on 15th April. I managed to get mine within the first month of being here... in fact, it only took a couple of weeks, so keep posting good, quality responses and discussions and you should be seeing your first payment in March. Brightest Blessings.

•
25 Feb 07
They are updated once a day. So you will see your new earnings in about 15 hours time.

• United States
25 Feb 07
Earnings are updated once per day. If you look under where it says "mylot earnings" and then "mylot referrals" it will say in great when it was last updated. It probably won't be updated for you until sometime tomorrow.