David Beckham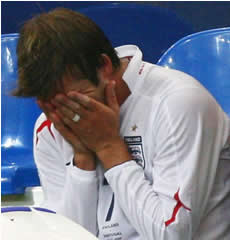 United States
February 25, 2007 6:43pm CST
DO you think he shud retire!!! or he still has the capability??? do u think something ruined his game!!?? I think he'll be back!!
2 responses

• Canada
26 Feb 07
LOL JackBravo, she used to be pretty hot you know! Spice Girls, hello? I have no idea what the hell happened to her figure now her bones are sticking out like that now. About Beckham I actually heard people said he is not that good, maybe he is in England, but not internationally anymore.

• United States
26 Feb 07
Dude, the guys' like got a 100million dollar contract to play for los angeles. I don't think they think he should retire. he's probably definitely still got the skillz. The only thing i have doubts about when it comes to him is his choice of posh spice. C'mon now....you couldn't choose someone a little hotter as the premier soccer player in england? that's all i have to say.