are dolphins really intelligent????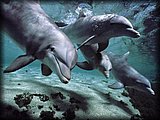 India
February 26, 2007 8:36am CST
are dolphins really intelligent?do u have some knowledge about dolphins,can u share with me??
3 responses

• Nigeria
26 Feb 07
It all depends on how exactly you measure intelligence. Psychologists have long known, and a small handful of educators are slowly attempting to point out to their hidebound school boards that not every person has the same kind of intelligence, and not everyone's mind works the same way. Just as some people might be superlative in solving logical problems, working mathematical equations and writing elegant code, but be totally abyssmal in inter-personal relationships, or be incapable of remembering what they were supposed to buy on the way home, there may well be different types of intelligence in the animal kingdom. For example, there is a large body of evidence that indicates that camels are actually masters at complex theoretical and practical mathematics. Their lack of natural curiosity and obstinate, ornery natures tends to restrict the expression of this genius to the real-world practical applications of applied ballistics, and use their talents only for accurately placing fetid gobs of spit. Dolphins are often noted for their large brain size, and their intricate social lives that include clever strategems used in pack hunting of reef fish, but as it turns out reef fish aren't really that difficult to outsmart, and the dolphins don't even use most of their capability for intelligence. They are afraid it makes them look too dorky, and so they spend most of their time gossipping, discussing which other dolphins are the cutest, what the latest fashions in coral colour are, how cool it would be if someone invented waterproof make-up, Tom Cruise, and other mindless drivel. Sometimes it just breaks their mother's heart when she thinks of all that wasted talent. Hippos are indeed fairly intelligent, but mostly in the fields of biochemistry and Russian literature. Because they are rarely exposed to these stimuli, they tend to be very ornery, and work out their frustrations by tearing people and crocodiles in half, and then spreading poo everywhere. Which, if you read carefully, are also common themes in Russian literature.

•
26 Feb 07
Yer they are I have to say as far as inteligent animals go they are up there, think they are top 10 arnt they cant remember for sure though