A cat with allerigies? Well, I never!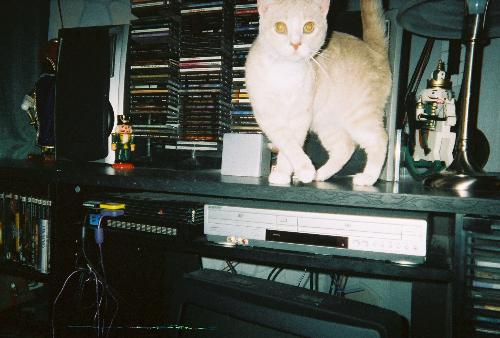 United States
February 27, 2007 2:04pm CST
My cat Nor has been sneezing and has watery eyes since he arrived a year ago. Sometimes he does this "marathon sneeze" where he sneezes up to 10 times (yes, I've counted) in a row without stopping. I was afraid he's going to have a heart attack one day from doing it. Our vet says he is allergic to dust and pollen and gave us eyedrops to use whenever he tears too much. We are to return him to the vet if his lungs become congested. A cat allergic to dust? We stopped using vacuum floor deoderant powder and he's improved, but whenever he gets on the screen porch, you can hear him sneezing away, poor thing. Have you ever heard of a cat allergic too dust?
7 responses


• United States
27 Feb 07
I had a cat that was diagnosed with allergies, but when she didnt get better they looked again and it turned out to be feline lukemia, scarry thing. Anyway but yes animals can have allergys, you can do like you are and reduse the allergyn in your home and they feel better. They may also have allergy meds for animals, i dont remember. I had a cat who was lactose intolorant, couldent have milk which was dissapointing, because before then all our cats were milk fed cats lol. We had to stop giving them all milk because of one. Anyway they can have all sorts of allergys. Its just uncommen.

• United States
27 Feb 07
Yes, cats can be allergic to everything people are allergic too. One of my cats tends to cough and then wheezes after it, it is a type of allergy. Cats can even come down with asthma! When he's on the screened porch he could be allergic to something outside. I know in the spring when I start opening up my windows to get fresh air inside 2 of my cats tend to sneeze and the one that has the wheezing, her eyes will start to bother her. I can't even use scented candles in my house because her eyes will start bothering her, she starts to keep one eye closed and it tears!!

• United States
27 Feb 07
One of my cats has allergies also, we have an eye ointment that the vet gave us and that helps to dry up his eyes and nose. luckily its never gotten too bad.

• United States
27 Feb 07
My simease has athma and allergies. You can hear her breathing all over the house. We even had to give her injections twice a day for about a year. Have you ever heard that pets get their human parents diseasses. LOL Well, my simease cat did just that and the vet said it is quite common. LOL

• United States
27 Feb 07
Oh yes my dear. Cats and dog can be allegic to dust. They can have all kinds of allergies, like humans. Also, as the season changes, he can get allergic to pollens. I hope he will feel better dear. Just give him the meds to make him more comfortable, and watch him closely , that he doesn't get too sick with a symptom like not being able to breath well. He may weeze, my cat does, and she snores too.