do u make your dog wear sweaters in winters?

India
February 28, 2007 2:51am CST
i dotn understand why people do it. i can understand that dogs feel cold whe it is so bu ti dont understand the need to coat them with layers of woollens. i mean on eneat clean sweater is good enough, but some people overdo this. and they dont even bother to change the sweaters and wash them....what do u say? do u also wrap your dogs in sweters? and how many??
5 responses

• India
2 Mar 07
yes i do make my dog wear a sweater but i make sure to take proper care that its changed and removed wen needed....and yes u cann't see them shiver wid cold....they feel d cold but cann't express it...

• United States
1 Mar 07
my dog has short hair and so if it is cold out side then i put a coat on her if we're going on walks or something. other wise she gets too cold to go. i only have one for her though.

• Australia
28 Feb 07
Well I did make a small jumper for my dog and he used to wear that during winter when we lived in the country area but in the city here it is not cold like it was there, oh I used to wash his jumper and it was always clean. I only put one jumper on the dog.

• Canada
28 Feb 07
I have a toy poodle who loves the outdoors. We spend alot of time outside in the winter and she has to wear sweaters to keep warm. She's a small dog that does not have the layer of fat that the large dogs have to help her keep warm so we put sweaters on her. She has several that my mom made her and they are washed each time she wears them.

• United States
28 Feb 07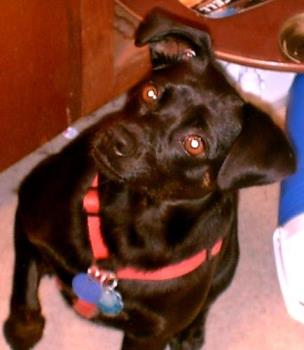 My small dog wears a sweater during the winter. She only wears one at a time and we change it every weekend and wash the one she was wearing. She loves to wear them, though. We wouldn't make her otherwise. Now when she doesn't wear one, she looks funny to me. Here's a picture of her not wearing one. She just doesn't look like Trixie.