Printers

India
8 responses

• India
1 Mar 07
Most laser printers work with four colors black, cyan(blue), magenta(pink), and yellow. They combine the colors to "create" the other colors. They are definitely more expensive to buy and run than ink jet printers. While two ink jet cartridges may cost between $30-$60. Most Laser printers have four color toners that cost $100-$200. Some lasers have corresponding waste toner cartridges $50/each. If you're using it for business purposes or require laser 600-1200 dpi output and speed, Laser is the way to go. If you're just printing photos and map quest, you might want to stick with the ink jet.

• United States
22 Mar 07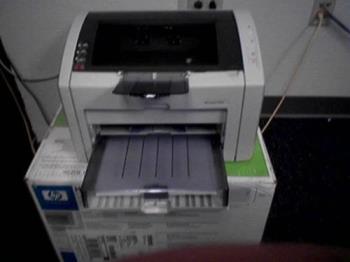 I definitely agree with you that a inkjet printer would be better for photos and are less expensive than laser jet printers. We only use laser jet printers at work and they work great and fit all of our needs there. The ink cartridges are very expensive for laser jet printers.

• United States
22 Mar 07
At my job, we use laser jet printers and they work great for our work needs. We only use black and white printers as color printers are expensive and the ink is more expensive. The quality of laser jet printers are very good. At home I use a inkjet printer and i love this too for my personal needs and for photos and other things. Both are really good and probably depends on what you need to use them for, whether documents or pictures.

• Philippines
1 Mar 07
it's still depends on your usage, volume and your willingness to pay. Of course, better technology costs a lot and laser printers prints better quality than inkjet printers. But there are new inkjet printers that prints good quality pictures but costs less than laser printers. Still, laser printers prints better.

• United States
1 Mar 07
laser jets are superior but i think you will probably pay more for them though

• United States
1 Mar 07
It depends on what your using it for. For high volume printing, such as an office, get a Laser Jet. For home use get an InkJet, they are usally cheaper and the ink cartrige cost less then a toner cartrige (used in the LaserJet)

• United States
1 Mar 07
I like the laser a lot better if i dont need to do anything in color. It prints out a lot faster and the ink is already dried when it comes out. Jet ink you have to make sure you dont smug the ink till it drys.. Only time i use jet if i print things out that have color to them.

• Philippines
1 Mar 07
for me,,,it's laserjet printer because of it's fine printing. good day