my husband and I should share household responsibilities... right?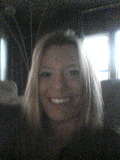 United States
October 15, 2006 12:29pm CST
My husband and I both work and I feel that we should share the household responsibilities! I told him If he wants me to be his housewife I will quit my job!
2 responses

• United States
15 Oct 06
I try to do most of the household things since I dont work. My hubby try to help me all the time and Im really happy that I got a helpful husband. But laundry room is off limit to my hubby.

• United States
15 Oct 06
yes I think both should help out with the house although mine dont either but when he does which is not very often i love it lol..