what will be the future of ferrari without michael schumacher

India
March 2, 2007 4:27am CST
i dont think any one will take place of michael schumacher in near future. ferrari team will suffer greatly without micheal schumacher. they will have to make new plan and stratergy about how will they perform without schumacher and how will they fill the void of michael schumacher
5 responses



• Italy
2 Mar 07
schumacher is not + in formula 1. is out. schumacher is very very godd at pilot ferrari. and m.s is out is rest de miglior!!!

• India
2 Mar 07
i became a fan of f1 only because of schumacher.....n now iam a crazy fan of f1... i think ferrari have the best think tank n a great group of technical committee in f1...they still will continue to do wonders even without schumi.... raikkonnen is a young talent.....i think he will perfectly fit into schumi's shoes.....he finished 2nd in a few races last year with the williams car....n rhen he will certainly be victorious wit ferrari....

• Greece
2 Mar 07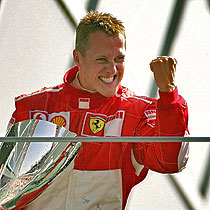 I'm a big fun of f1 and ferrari.When I saw that Schumacher will not racing any more I feel vry sad.I can't even imagine how can be f1 without him for I can say anthing about ferrari future.I think we must wait few days after the new season start to see what things going on with ferrari.