Daylight savings time changed?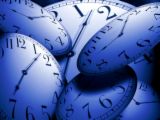 United States
March 2, 2007 8:03am CST
Ok maybe I'm a little more airheaded than I give lyself credit for either that or I am extremely out of the loop. Did you know they moved up daylight savings time from April 1st to March 11th? This is news to me. I heard it on the radio yesterday on my way home. After asking several people about it turns out everyone knew but me. Did you know? Why the change? Maybe they should do away with daylight savings time all together. I know some places in the US dont even do it. My friend lived in Pheonix AZ and she told me they didn't do it there. I thought they were crazy. Turns out there are several places that don't do it. Are you one of them? What do you think about day light savings time? Should we do away with it completely?
7 responses

• United States
2 Mar 07
lol i didnt know that either till.....now.Well where i live we shouldnt get rid of it cuz in the winter time it gets dark at lie 3 in the afternoon if we dont do it.I hate darkness,it gets me so gloomy.I wish it was sunny all dayeveryday.But thanks for the info cuz march 11th i wouldve been late for work lol.

• United States
2 Mar 07
ok so I guess I'm not the only that didn't know. See I'm good for something lol!!

• United States
2 Mar 07
Yes, I knew that beginning this year there will be an extra month of daylight savings time. It begins March 11 this year. This was done by Pres Bush due to the oil crisis...it is supposedly to save on electricity. There are predicitons of a bit of computer issues due to lack of planning. I mean, of course some liken it to the scare of Y2K, which was a joke. However, this time, there has not been as much planning and supposedly there will be some computer glitches, as they aren't prepared for the switch on Mar 11. Nothing major, but some small stuff is being predicted

• United States
2 Mar 07
See yet one more thing I didn't know, about the computer bit. I will have to make sure I fix mine!!

• United States
19 Mar 07
i found out a few days before. I don't like it either. It is still dark at 7:30 am! What about the little kids going to school? Doesn't anyone care that most of them are walking in the dark to school?

• United States
19 Mar 07
Why don't I ever check to see if I answer these things before? LOL

• United States
7 Mar 07
If it makes you feel any better, I found out yesterday (March 6th) on the news. Didin't they always do it the last weekend in April years ago? Then switch it to April 1st?

• United States
7 Mar 07
I can't remember when they used to do it. Maybe I'm too young to remember lol! All I know is we are losing an hour of time earlier than usual this year! and I'm trying to figure out how my kids who are 1 and 4 are going to adjust.

• United States
14 Mar 07
I thought it seemed earlier this year! I've never really understood how some cities do it and some are like, no thanks. Actually, I've never really understood why we do it in the first place. So what if it's still dark in the morning?

• United States
2 Mar 07
Yes, I knew this and they've also moved the "fall back" time to November. I'm near Toledo, and yes, Daylight Saving Time affects my area. I don't like that it gets dark earlier in the winter, because I always think it's time to hunker down and get cozy in my pjs too early. I think I would be okay with never having another time change.

• United States
2 Mar 07
Out in my neck of the woods; which is Florida USA; daylite savings time don't change til another month.

• United States
2 Mar 07
This is for the whole entire United States of America! Not just certain states or regions.