I got my credit card..Need help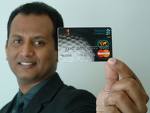 India
March 2, 2007 1:31pm CST
Hi today i got my first credit card issued. I got a very big booklet and there are lots of info regarding how to use and how not to use credit card etc.. i didn't go tru properly as i was lazy to read. I hope most of you all already have a credit card,so please let me know what precautions to be taken, when to use credit card and when not to use credit card. I heard most people saying,even the bank people saying not to give credit card number to anyone, why so? and also heard about many credit card frauds..so please share your words and caution me Thanks
3 responses

• United States
2 Mar 07
o.k. first...take down the picture of you holding the card!!! if someone has a good computer and technology, they can read your number and expiration date and then you're identity is stolen! second, keep it just for emergencies. if someone major happens and you don't have the money to pay for it, like your car broke down and you didn't have the money to pay for it, or your flight was delayed and you needed money for a hotel that night...THEN use your card and be sure to pay it off as soon as you can....like the next time you get paid. third, be sure it has a low interest rate. anything above 10% is kind of high. capitalone has pretty good rates, so check them out. you can use it pretty much anywhere that specific card is accepted. it looked like a visa or mastercard...i think, so anywhere you see that logo, you can use it. the logo is usually on the store's door or cash register. don't give someone your number unless you know for sure that they are legitimate. for example, i gave mine out to a sprint phone rep today to pay my bill. that's o.k. b/c if i didn't give them my check card # they wouldn't have paid my bill. don't give it your friends or anyone who may be trying to con you. hope that helps and be careful with that thing...they are dangerous!

• India
3 Mar 07
Thanks for your post. I am confused with this when u say that u have ur card number for a sprint phone rep and later again u say that not to give number to anyone...What's the guarantee that sprint phone rep also will not doing any fraud with ur credit card number.

• United States
2 Mar 07
Well, first word of caution is to keep track of the money you spend on the card the same as you would the money in your checking account. Lots of people don't and they get a nasty surprise at the end of the month in the form of a bill they can't completely pay off. If you only pay the minimum each month, you end up paying lots more for your purchases in the form of interest. Pay off the card as much as you can each month (preferably all of it) to stay ahead. In other words, you should use it like you would cash, and only carry a balance when you have had to make an emergency/important purchase. As for securing your card, remember that a person can charge on your card by only knowing the account number and expiration date, they don't need to actually have the card. So if you are buying things online, only use you card on "secure" sites that you trust. A secure site will have the little closed padlock symbol in the bottom right corner of the screen. Check your statement each month for charges you didn't make, in case someone does get your number, you can contest it with the company and have most or all of the charges taken off, if you report it in a timely manner. Good Luck.

• India
2 Mar 07
Thank you so much for the information you have provided. I will keep in mind what ever precautions u have mentioned.

• India
3 Mar 07
i always prefer debit card to credit card, since u hv control on the purchases, but anyway u hv got one so congrats, always try to keep it very safe since if its missed or gets stolen then emmediately call the bank cll centre to inform abt it, and block it ....try to pay the bills b4 date so to avoid interests.......