The lounge is flooded but we saved our fish ......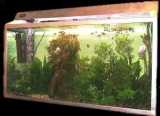 Australia
March 3, 2007 6:59am CST
This morning i woke to my youngest daughter saying, Mum the fish tank is leaking!!!!!!!! We have got a 7 foot long tank that holds close to 400 litres of water with 19 fish. My lounge room carpet is soaked but thankfully my fish and the pump are ok. Luckily for us it happened this morning and not during the night as i would have awoken to a flooded lounge and lots of dead fish. Some of our fish weve had for 7 years and ive grown quite attached to them. Has this ever happened to you? What did you do? Weve chased around this morning and got what we needed, now weve had to reseal the tank. Hopefully my fish will survive the 4 days in the little tank.
2 responses

• Etowah, Tennessee
3 Mar 07
I feel for you! i have had tanks since a child when my mother raised guppies for a fish store.I have never had this happen but can remember it when it happened to my mother. Like you she was lucky enough to be awake and home when it happened. Hers was also not a large tank, but about a 20 gallon tank so not to awful. I do not think she lost any fish. I am glad you did not lose any of yours. 7 years is a long time to have a fish. I can tell you take great pride in them and must take excellent care with them for them to survive that long.

• Denmark
3 Mar 07
The same thing happened to one of my friends not too long ago. He's never home so lucky for him the tank started leaking right when he was home. He live on the 5th floor so imagine if his huge tank had just collapsed! :-s