What do you want your gravestone to read?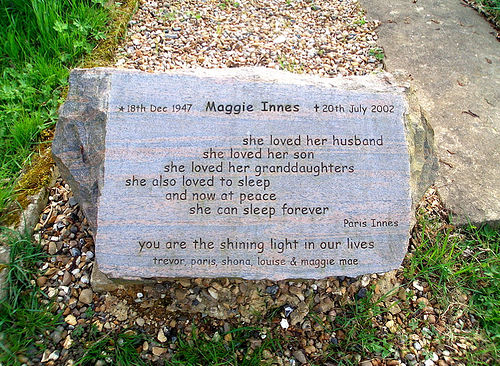 March 3, 2007 8:12pm CST
This is intrigueing me after I started a discussion earlier... hehe. I know that "Buried Alive!" would be a great message on my tombstone haha, but do you know any original ones, or even better ones that you would like to read on your own or someone elses? It's quite refreshing to be humorous about death rather than just be morbid about it I guess hehe. I like this one (pictured below) about being in love with sleep, and now being able to sleep forever! haha. That's me I guess all over! I love sleep, though I doubt I would love to sleep forever, sleep is special when it's a rare commodity! haha. So what would you want your gravestone to read...???
1 response

• Denmark
8 Mar 07
There is an interesting subject ;) These days we see a lot of "art" in the cimetries, so why not have a little humour too. If I were to be burried, (yeah I still don't know if I am gonna end up eaten by sharks and have something left of me to be buried ) well I would like a message like "Mind your step" on my gravestone... ;)