How do you spend your Sundays??

United States
March 4, 2007 3:07pm CST
Is it sacred for you? A relaxing day for you and your family or just like any other day? It usually is a family day for us. Usually for me I grew up going to church in the morning and then spending the rest of the day just relaxing or spending time with the family. I try to keep that the same way with my family now. What do you do on Sundays?
4 responses

• Grand Junction, Colorado
4 Mar 07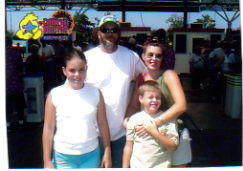 It's mostly a family day for us also, well every other Sunday as the kids aren't here today.:( So I get a little mylotting time today. Usually we do things together, depending on the weather, whether it's in doors or out. We like to all go out to the local flea market and just wonder around on nice days. In the winter months when it's cold and rainy we sometimes just rent a bunch of movies and all hang out together watching them. Sometimes it's roller skating at the local rink. We usually all decide as a family what we would like to do then we just head out for a fun filled day.:) Happy Sunday to you!

• United States
4 Mar 07
Well sounds like you have really nice sundays. Thank you so much for responding, Happy Sunday to you also:)

• Australia
4 Mar 07
I believe that it should be sacred and it is for me, but too many people do not think so where I live around me that is they even do the lawn mowing. It is more of a relaxing day though. When I grew up from the age of 2 I started going to Sunday school, until I was 15 years old, and then went back a few years later but stopped as I do not like the way that the churches are run these day, but I always pray to God every day.

• United States
4 Mar 07
I go to Church every Sunday at 9:30 AM. After that, I would go with my sister to get our groceries (usually at Costco) and then come home to watch TV or do some household chores. Sometimes, we go to the cinema in the late afternoon, or dine out. I only live with my sister here in the U.S. My other sister is in another state, and the rest of my family is in the Philippines.

•
4 Mar 07
My Sundays are usually spent with my partner relaxing. Sundays can be a busy time too, if we have house work to do or visiting. A lot of our Sundays are also spent working on our music