Does your cat follow you into the bathroom?

United States
March 5, 2007 9:44pm CST
I have two cats, both of whom love to be in the bathroom with me. One of them ignores me pretty much all other times of the day, but as soon as I'm in the bathroom she's frantically scratching at the door to be let in. She's quite affectionate while I'm doing my business. My male cat, on the other hand, just wants to sit in the sink and stare at me. These are not the first cats that I've had who do this. The last cat I had did the same, but not to the extent that these two do. Do your cat's do this? Does anyone know why they do it?
5 responses

• United States
8 Mar 07
My cat also follows me in and rubs my feet as I am trying to use the restroom. It is so cute and funny but, it is a bit odd at times. :) Sometimes when I am in the shower she even pushes the curtain back and says Hi. Really she talks so that makes it more odd. Makes me fell as if I have a furry kid following me around. It is beautiful and I love it though.

• United States
8 Mar 07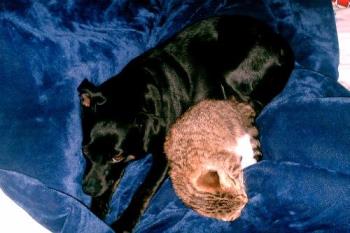 My cat loves the bathroom. Anytime I'm in there for anything, she's right there too. If I'm in the shower or getting ready to go somewhere, she sits on the toilet and watches me. Otherwise, she likes to lay in the bathtub. My dogs both come in when I'm in the bathroom, too, though. My small dog knows how to open the door as long as I don't lock it, so then all three pets come right on in. If I lock them out, my dogs both sniff the bottom of the door and repeatedly run into it! Then the small one lays down and cries until I let her in or I go out. I don't really get what the obsession with the bathroom is for my pets.

• United States
8 Mar 07
My cat leaps up onto the porcelain sink all of the time in a frantic rush and hurry for no reason at all, when I have only gone to the bath room to wash my hands or comb my hair or shave

• United States
6 Mar 07
I guess it must be a cat thing cause mine does the same. Our Toulouse ignores us, like yours, all day until we go in the bath. He likes to rub against us and sits by the bath while we are in it. If we don't touch him after we get out he meows like crazy. We just figured he wanted to make sure his scent was back on us.

• United States
6 Mar 07
I have no idea why they do this but mine do it too. For them it seems like the best time to sit on my lap. Cat claws on a bare leg doesn't feel all that good.lol. Mine like to sit in the sink when it is hot out. I think thats because the sink is cooler.