Dude whats the name of your car?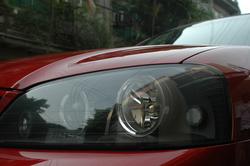 Philippines
March 5, 2007 10:58pm CST
Yesterday i was with a friend.. we will go out to grab something and ofcourse showing off his new car (a Mazda6) we went out and he told me "ei go inside viktor" and i said totally "huh?!"... "yeah viktor -V-I-K-T-O-R- thats the name of the car".. is my friend serious? i guess its too much "knight rider" for him or he's just a desperate "knight rider" fan.. i dont know =) Do you guys own a car and naming it? what its name?=)
2 responses

• United States
6 Mar 07
I don't think that is from Knight Rider, that car's name was K.I.T.T. I see nothing wrong with finding your cars name. Mine's name is Lucky (see avitar). I found her name because I am vry lucky to have her in my life and she helps me with the ladies. She deffinatly has a mind of her own when it comes to some things and she has never let me down. This is a true story. When I was with my now ex gril friend and we would have a fight, Lucky would stall. One time we went to the mall, My ex wanted to go home but I wanted to be with her more. Sooooo Lucky refused to start until we went to dinner. After dinner she started up right away.

• Slovenia
8 Mar 07
I have A Fiat Punto, and I don't have a name for it. I have a lot of friends and I don't know anybody that would name his car but I've heard of a few people that have a name for it. I don't find anything wrong with it, I think it's kind of ok if you find a name for it as long as it's a normal name, because you have people that give such names to their cars that I would be embarrassed to say it out loud:)