When I say....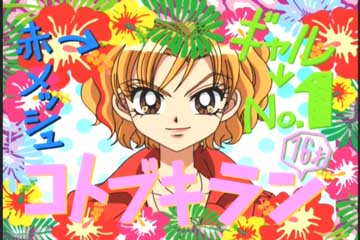 United States
March 6, 2007 7:36pm CST
When I say....kick-butt bishoujo (beautiful girl) which female anime character comes to mind? Yes that's right, I want to know which female anime characters you think have a strength all of their own. Maybe they're physically strong and could bench press an elephant, or maybe they have the strenght of character and will to over come any obstacle in their way. So tell me!
8 responses


• United States
1 Apr 07
You got that right! I mean comeon, she flicks you on the forehead with ONE FINGER and send people flying! DO you remember the episode where those two brothers had escaped from the Konoha prison? They were near unstoppable and she just flicked them and had them cowering. They called her Tsunade-oneesama for crying out loud!! XD Fear her.

• Philippines
11 Mar 07
that would absolutely be astaroshe asran of trinity blood *drools* or kukakku of bleach. i say those women literally kick butt! its not just the strength but the veery good body and the looks too. but if we are talking bout the bishoujo pretty pretty (and shiny) type, my choice would be of akeginu(basilisk), umi(marina) and emeraude of rayearth (the grown-up one)



• Indonesia
13 Mar 07
Umh.. I agree with honda Tohru too. He is so brave. But I choose Karen from Anime B'T X She is strong, able to fight and sacrivised her self to save the world. T____T too bad she die T___T

• Philippines
12 Mar 07
Well for me it would be Maya Natsume of Tenjou Tenge! She is extremely hot and beautiful and can definitely whoop some a**!! hehe

• Philippines
12 Mar 07
Hmm.. Let's see.. LOOKS: A close tie between Suzumiya Haruhi, the grownup Skuld of Ah My Goddess and the grown-up Hinata of Naruto Shippuuden (Hinata with long hair is the bomb.) WITS AND SMARTS: Haruhi of Ouran HSHC and Tohru of FB. SKILLS: Kuukaku, Yoruichi and Soi Fon of Bleach, and that blind girl from Samurai Champloo (I forgot her name)

• United States
12 Mar 07
Yes, I am in love with Hinata's new look. Such an improvement. her younger version could only be described as cute, but now. Well, meow! lol I would think she has more than just good looks though, I think she has great skill and character as well. Wits and smarts, oh yes Haruhi and Tohru definately fit the bill for this category. As well as character and personality as well. Skuld I would have to say has both smarts and looks as well. :)

• Philippines
30 Mar 07
Two of my most favourite bishoujo characters are Ai Enma from Jigoku Shoujo (because of her power to send people to hell) and Kanzaki Urumi from GTO (because of her 200+ IQ).

• United States
21 Mar 07
I think that Kumiko "Yankumi" Yamaguchi from Gokusen would definitely kick butt. She's the head of a Yakuza group, so yeah she would put a hurtin' on you. Sunako Nakahara from Yamato Nadeshiko Shichi Henge is so under cover you wouldn't think that for someone who lives in the darkness could really kill you in an instant.