Best One-Liners: Gil Grissom vs. Horatio Caine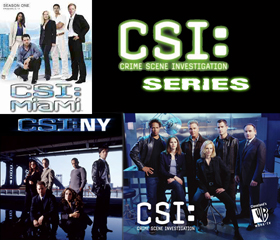 Philippines
5 responses

• United States
8 Mar 07
Oh they are both so good at the one liners. They both have very different styles as well which doesn't help. I really can't say which one is better at it. It's like comparing apples with oranges. They ae both just very unique. Both make me smile in their own ways. Just how they are.

• Philippines
8 Mar 07
i like horatio better (but i think i'm getting unfair cause i really like csi: miami.lol) but both are really good one-liners and hope their shows get better and better every episode

• United States
8 Mar 07
I think the best one-liner so far this season has been by David, the assistant cornor on CSI: Vegas. It was one of the episodes where Grissom was away. At the end of the intro when they have "discovered" the body Catherine says "You know what Grissom would say..." And Superdave, deadpans, "Something ironic, I'm sure." I rolled! :-D Usually, though, I prefer Grissom for everything, one-liners included.

• United States
8 Mar 07
I loved that one! I agree with you, I almost always prefer Grissom to Cain. He seems to mesh better with his team.


• Canada
9 Mar 07
I just can't stand Caruso's acting style in this series. He irritates me so much that I don't bother watching CSI Miami any more. Even given my obvious bias, I would have to say that Grissom has the better one-liners. He always delivers them with a smile, knowing that whoever he's with will likely groan at his gruesome pun or non sequitur (though you never see this because the show goes to the opening credits right after his line). He sort of reminds me of Lenny Brisco (on Law and Order).