my daughter desinged my tattoo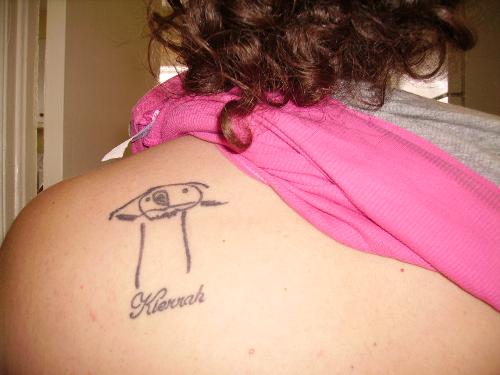 Canada
March 8, 2007 7:23am CST
i wanted to share my tattoo with everyone. when my daughter was 2 1/2 she was drawing on a aquadoodle. she made a picture of herself. this was the first time that she drew something that actually looked like something. i was so excited and ran to get my camera to take a picture of it before it dried. (aquadoodle is drawings with water) anyway i had been trying to figure out a tattoo with her name on it but i don't like the ones at the tattoo shop becuase they are not original and all look the same. so i wanted soemthing really special. i brought in the picture of her drawing and had that put on my back with her name under it. it's so cute and she's so excited to have something she drew on me.
8 responses

• United States
8 Mar 07
That is such an awesome tat! I wish I had thought about this when my daughter was younger--but a lot of her pictures have giant eyes...and I hadn't even thought to have a tat at that point. Maybe I'll go digging and find some else of hers...fortunately I only have one!

• United States
8 Mar 07
That is so cool. I really wish that I had thought of doing that while my son was young. It wont be fair to do it with the second.

• United States
12 Mar 07
I don't like tatoos myself but it sounds great for you. Your daughter will be very proud that she inspired your tatoo. Maybe she can take you to show and tell when she gets older. I really think this is great.

• Canada
13 Mar 07
that is such a cute idea for show and tell. thanks

• United States
8 Mar 07
How cool! that's a really neat idea! I have a 4 leaf clover on the back of my neck with my son's name under it, I plan on getting one for each child, do you plan on doing the same? by the way, your daughters name is really pretty.

• Canada
8 Mar 07
thanks, i'm not planning on having any more kids so i won't be getting any more tattoos. but if it happenes where i do then of course i'd get another one with my second child's name.

• United States
8 Mar 07
I think that is just great. It shows how much you love your daughter. That was a good idea, because now you will always have a reminder of her first good drawing. When she gets older, and you explain to her what you did, she is going to know just how much you love her and care about her.

• United States
13 Mar 07
Thank you for the best response

• Canada
8 Mar 07
hey thats cute...my daughter doesnt draw much except some slanting lines n circles but i too might get it postered if not tattooed..U might be feeling so good,even i can feel it...u n ur daughter will always have something to share with each other...Its just great..

• United States
8 Mar 07
what a wonderful and beautiful idea. I, too, want something with my kids names on it, but can't find exactly what I want. Thank you for sharing. I love this! SO CUTE