pizza!!! pizza!!! pizza!!!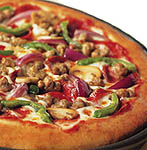 Philippines
6 responses

• New York, New York
8 Mar 07

I usually order from Dominos, pizza with onion topping. Hmmmmmmm so good! Oh and a diet pepsi, can't forget the soda.

• Philippines
10 Mar 07
yes a yummy pizza is not complete without an ice cold soda. thanks for the response


• Philippines
8 Mar 07
yeah me too... unfortunately dominoes pizza is not that near to our place but i am willing to sink my teeth on that delish pizza.


• Philippines
24 Nov 07
hello roni. I'm not that very fond of pizza but when I start to feel the craving for it, my family goes to Pizza Hut. I much prefer the meaty type but when I'm with my husband, he never fails to order his favorite Hawaiian Pizza. If I remember correctly, we have ordered a kind of pizza with cheesy crust. It was delicious during the first bites, but halfway through it, the tastiness went away for us. We end up taking home the half part of the pizza.

• Philippines
23 Nov 07
I also love pizza. here in the philippines they offer so many pizza restaurant. I love shakey's pizza the first time i saw a 40 inches pizza it's very delicious and very yummyyyy. I also love the pizza of pizza hut i love the thin crust. I also love the pizza of yello cab the crust is very delicious:) and last but not the least dominoes pizza it seldom see here in my place but whenever i see one i make it a point to eat there:) happy posting my friend:)

• Australia
23 Nov 07
hi there roniroxas i love my pizza i love chicken and pineapple pizza and i even like my pizza cold too i mostly like it cold i ususlly takeawy pizza i did get it from dominoes or pizza hut but they charge a delivery fee so i rather get it from a pizza shop and there pizza is much better and cheaper and they dont charge a delievery fee so i get it from a pizza shop now thanks for this discussion