What's your favorite breakfast?

Norway
March 10, 2007 3:35am CST
Im sitting here in the morning and having my bowl of cereal (well cheerios to be more accurate). This isnt nowhere near my favorite breakfast. I'm more into a nice wholeweat sandwich with lettuce, tomato and boiled egg and smoked salmon with a squeeze of lemon juice on top. Glass of fresh orange juice and the meal is complete. you?
8 responses


• Norway
10 Mar 07
sounds very filling.. First time my husband saw me have the leftover rice from the day before, he was shocked.. He couldnt grasp the idea of having "dinner food" for breakfast.. I told him that rice is really nice in the morning.. i dont think i managed to convince him though lol

• Philippines
10 Mar 07
Everyday my dad wakes me up and give me koko crunch and milk! lol! thats my everyday breakfast when it is school days! i really like it.. i dont know.. maybe im used to this breakfast! :)

• Singapore
11 Apr 07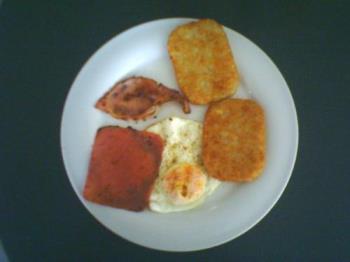 My family favorite breakfast ia a hot meal with Sunny side up egg, bacon, ham and bake bean and with a cup of freshly brew coffee. I can only have it during weekend. On weekday, I am always rushing to send the kids to school and getting to work. And breakfast is just sandwich and a cup of coffee that I grab from the company cafeteria.


• Philippines
10 Mar 07
breakfast for me wont be complete if I dont see in the table fried rice, fried egg, ham or bacon and a cup or two of hot chocolate.

• Philippines
10 Mar 07
well here in the philippines people really loves to eat rice, so normally i fry the left over rice on garlic and a little soy sauce then eat it with egg or with hotdogs or with fried chicken. and i dont forget to wash it down with coffee... ummmmm a perfect breakfast that can keep we working up to 2 in the afternoon.

• Philippines
10 Mar 07
im getting hungry now.. my fave breakfast would consist of a lot of food (although i wont eat that all in one seating or one breakfast) ... i like these... pandesal (filipino bread), hot choco, milk with cereals (Frutina or coco crunch or nestle corn flakes), fried rice, bacon, egg, hotdog, tuyo (dried salted fish), champorado, sandwich with any fillings, salad (lettuce, vinegar, a lot of pepper, tomato and tuna) ahehehe.. cant wait to eat again...