Video game Ghotic 2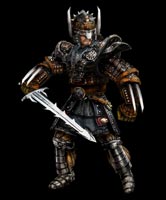 Romania
March 10, 2007 8:19am CST
I`m a fan for this game . I played it for three times in 3 diferent ways, as paladin, mercenary and priest. I like this game verry much is my favourite vide game. I wish to play gothic 3 but i cant because I dont have the necesary configuration on my pc. But i think i`ll do after 4 month. Is somebody who is playing gothic 3 in the present? how is it?
1 response

• United States
14 Apr 07
Hi, vally. I'm responding so you can resolve this discussion if you want. Can't do that with zero responses. I don't play video games but I have a nephew who does. He is a member of an online group that plays some game or another. He really gets involved and spends lots of time on his computer. I sometimes am concerned that he doesn't have much of a life outside his job and his computer. But who am I to judge? Did you get your pc configured yet?

• Romania
14 Apr 07
My dear youdontsay I`m sory because I don`t response every time you start a discussion, but not because you of course. Many of them are not interesting to me, like you know already my interest is to find a best way to help my downline to grow up fast with new friends. You know what I`m talking about. You respond to all discussion you are receiving from your friends? Do you have enough time for this? You sacrifice your time for mylot discussions?. Anyway I mark best response everytime i response to you and for my friend of course. Do you do the same to your friends? I saw you are upset about this problem. You think nobody is interested by your subject. I dont think so. What I think is most of people have a lot of other important things to do and just ignore discussions on mylot. My advice is to increase your number of friends wich spend more time on mylot with a great rating. I hope my response will help you. See you around.

• Romania
14 Apr 07
Hi again. Beside video game, Gothic is my favorite game. My PC is configured for Gothic 2. My pc problem is for Gothic 3, but for a moment is not a priority, so I didn`t upgrade my pc for this game. Business are on the top of my preference now. Anyway I congratulate you for insistence to get a response from me. You understood I like this subject very much. Will be in touch.