insomnia and paranoea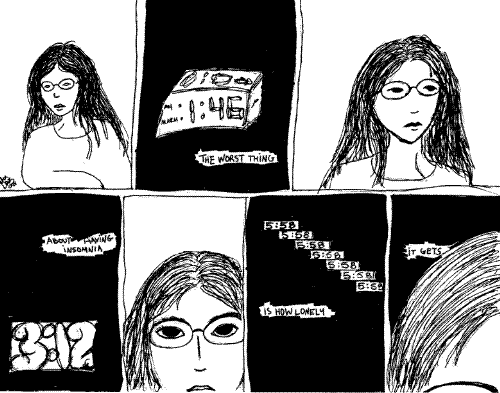 India
March 10, 2007 9:59am CST
hello people,i'v eheard that insomnia leads to paranoea.......i am an insomniac.....i hardly sleep 3 to 4 hrs a day and on days which are worse i don't.....it has been noted by my collegues and been reported to the officials at my company that i am a sleepless nocturnal ghost or something......i work in a call center as a quality analyst and my basic duty is to monitor the calls taken by customer support professionals and rate them according to the guidelines set by our company. as directed i have to listen to 4 calls per agent per week for each of the 20 agents or mo0re assigned to me......while every counterpart of mine in the company takes a minimum of 3 days to complete the first set of 2 calls per agent i normally finish my work af all four calls within the first three days and help the others to do their work...... wondering why i said all this, i am coming to that......now this fast work is not to say that i am extremely intelligent or super brainy or anything.....what i am trying to convey here is that this is how my nights and days are spent......i am at office most of the time of the day doing my work......i spend at least 20 hrs at office.....out of the remaining 4 i am at my house for mnot more than half hour as i am getting ready every morning and the remaining time i am with my freinds sharing a couple of laughs.....i ahev never felt paranoea in me but now after reading this article in one of the websites(if you try to find the picture that i have posted for insomnia you will find this information) i am starting to worry if this will effect me in the future...... please post some eye opening responses to this topic and make my day.......
2 responses

•
12 Mar 07
Not sleeping can effect your mental health and cause paranoia it's true, when I can't sleep I have to do things to help me relax like listen to a sleep CD I have, it's new age music designed to help you dream too. Lavender essential oil is also very relaxing and so is the herb chamomile I drink it in the form of herbal tea which is readily available in supermarkets and health food shops.These are all natural ways to help yourself sleep better it sounds like you need to work less hours though 20 hours a day at the office is too much for anyone and it's bound to effect your health, you are supposed to get 8 hours sleep a night.

•
10 Mar 07
I think you are throwing too much of your day into your work. Ok, you have a responsibility and you like to help others, but there's a limit really to how much you can work. You need time to relax and unwind and you'll sleep much better. Also, I would imagine that you probably drink coffee at work which also shouldn't be taken after about nine o'clock at night if you want to be able to sleep. Ok, you're managing at the moment, but I think eventually, you will exhaust yourself if you carry on the way you're going. Your work is carrying you along right now, but tiredness has to kick in sooner or later. I would advise you to cut your work hours by at least eight hours a day, to twelve, and get into some routine as far as sleep goes, or you will get very old before your time. Brightest Blessings.