asking out a friend?

India
October 16, 2006 12:44pm CST
i have a friend who i asked out a year ago and she said no but wanted to be friends. i asked her this right after her bf broke up with her. do u think this could have affected her answer? also we have grown close since this time. should i give it another shot? we hang out as friends all the time. how do i ask her so she knows that we wont be going as friends but as a couple?
3 responses

• United States
26 Oct 06
Well yea that sounded like you did ask her too soon.. some girls jump right into another relationship and other wait awhile! if it seems like your getting close then ask her what she thinks of you as. Tell her that you want to be more than friends and if not that you will still respect her as a friend! but you have to let her know how you feel. you never know what will happen maybe she likes you back but it afraid to say anything!

• India
26 Oct 06
Hey buddy You made a wrong move previously You asked her, just after her breakup It mustve had been really hard for her to forget a failed relationship and you just gave another offer Anyways nothing is lost now Just dont be too hasty, wait for a great moment If she is really interested she will for sure give you a hint Wait for it and then ask her out! You are done!

• United States
26 Oct 06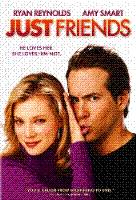 you're just going to have to tell her how you feel. i can't think of anyway to tell her you want a "real" date not a friend date without just saying it. you should watch the movie Just Friends with Ryan Reynolds... it is very appropriate for your situation. Trust me you don't want to get stuck in the "Friend Zone" if you want more :-)