Define Love.....

India
March 10, 2007 10:49pm CST
Hi everybody plz help me out define love in best words. so that i can use it in my first love letter.
5 responses

• United States
11 Mar 07
I believe love is not a feeling. It is an action. When you love someone, you will do anything you can to make your partner happy. You try to be there for that person whenever you can. You want to do everything with that person. I believe it's what you do, not how you feel.

• Armed Forces Pacific
12 Mar 07
to define love...love is many things...but the love that i will define comes from 14yrs of marriage...to me...love is everything my husband is...a kind, gentle, loving, & caring man...he completes me...he is what goes thru my mind & before he walks out the door...my heart is missing him allready...love is when i am not looking & all of a sudden i look up & find him watching me & smiling...or when i am washing the dishes he comes up from behind & hugs me & kisses me on my neck...love is when he is sleeping & i come over & cover him with a blanket & kiss him on his forehead...love is writing a little note & sticking it in his wallet...love is him making me breakfast in bed...love is just because...it has many meanings...i can go on & on...you have to define what your love is & when you do...you will write an amazing love letter...& whoever completes you will be your definition of love...

• Philippines
12 Mar 07
Love is something that you feel, though have a hard time describing. Every which word you choose to describe love, just doesn't seem to do it justice. It's a warm feeling of butterflies in your stomach, overwelming adoration, intense passion and caring.

• India
11 Mar 07
According to me.. Love is the bridge between two hearts in which the love and care tranfers to and fro..

• India
11 Mar 07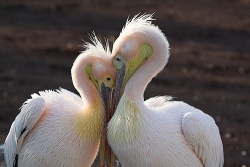 Love, perhaps more than most emotions, is difficult to define. It's easier to know when you are in love than to say what that love feeling is. Philosophers and psychologists both have attempted, and still attempt, to define love, or at least the difference between love and similar emotions. In this howto we will attempt the same. If you are looking to find love, these steps will guide you in the right direction.