What was your first PAYOUT in MYLOT!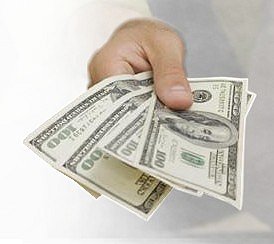 India
March 12, 2007 12:56am CST
hi guys, many of you over here would have got your first payout in Mylot. What was your first payout? Did you get it as cash or was it any product from eBay. I heard my friend saying that i can get the payout as cash only when i reach 100 dollars. I dont know exactly what it is. So can you explain me what was your first payout. When can i get cash as payout. If the first payout is a product then what was the product that you buy? Please give me suggestions so that i can plan what to do because in few days i will reach my FIRST PAYOUT:)
9 responses

• Grand Junction, Colorado
12 Mar 07
Well I don't know why your friend told you you couldn't get paid until you reach $100. You can choose as low as $10 to be paid out and there are other options to I know their is a $25 and a $50. I chose my payout to be $10.00. When you set it up just choose your payout at what ever level you wish! :) If you reach the payout by the end of any month then you qualify for the payout that month. Those payments are paid the following month on or before the 15th. Remember until paid all earnings are an estimate, your earnings can go up or down, depending on whether you posted to discussions that are deleted or you post a discussion that gets deleted. I'm expecting my first payment from mylot this week, any day, for $37.37. I'm pretty excited it's the first money I have made of the net. :) I hope that helps! :)

• India
13 Mar 07
Hey i dont say that Mylot doesnt pays us 10$ but what i am trying to say is the first payment is not given as cash but it is given as some product which we should purchase in the net. Is it so? Anyway you will be getting your payment in few days. Congrats and keep rocking :)

• Grand Junction, Colorado
13 Mar 07
The money is cash in your account, you just have to request it. If you request by check then pay pal will charge a small processing fee or you can transfer to your bank account for free. You can leave it in the account also and purchase items off the net also. Hope that better explains it. I also received my payment today! YIPEEEE!!!

• India
13 Mar 07
oh congrats that you received it. So you have earned a good amount and now you are confident that mylot pays its users. Hope that very soon even i will say YAPEEEE!!!!!!!!!

• United States
3 May 07
My first payment from MyLot was a little more than $13. I was very happy with the amount I made and each month I hope to increase it just a little if I can. So far I have made over $40 here and I love this place. I wish more sites would pay their members for being a part of it. MyLot Rocks!

• India
3 May 07
Yes, you are right. MyLot Rocks! The much excitement we get after joining myLot is i think our first payout. Even i was much excited with it. Anyway thanks for your response :)

• United States
19 Mar 07
I haven't reached my first payout yet. I've been a member about 3 1/2 weeks and still have a long way to go before I reach $10. I am much more active on the site now so I am hoping to reach that $10 alot sooner.

• India
19 Mar 07
You wont be far too, as you have started to spend lot time on myLot i dont think your first payment is too far. All the best for your success :)

• Greece
14 Mar 07
My first payout was $12.76 for me and take more than month and this because the first month I didn't come to mlot often.Before two days I receive my second payout after one month from the first this time.My earnings still in my paypal account.I don't like shopping on line .I think your friend mean when he talk about $100that paypal if you want withdraw your money to your country bank take some fee if is under $100,but when you transfer more money you don't pay any fee.Until you been paid you need one month,so is long time to see what you gonna do with your money.

• India
15 Mar 07
ok anyway congrats for your second payment. Ya i have a month to go to receive my first payment. I dont know how shall i transfer the money from paypal. Hoping that someone will help me out :(

• India
13 Mar 07
i think it gives u the pay only when it reaches 1oo$. but i am not sure about it. better u read about it in the front page of the web site. and if u have get any conformation message me back to clarify my doubt also.

• India
14 Mar 07
dai i asked few of my friends in mylot da they said that as soon as the minimum payment(10$) is reached, the amount will be transferred to out paypal account. Then we have to provide our credit or debit card number so that paypal will transfer that money into our bank account.

• India
12 Mar 07
present i am in 2$ so i am very anxiety to the money as much as possible so plz help to get the money in shorttime.

• India
13 Mar 07
ya sure, keep trying and post quality discussion where you get more response. Naturally your amount will make a steep rise. ALL THE BEST :)

• Israel
22 Mar 07
If I remember corrctly, my first payout was about 13$. I remember that I was so happy when I got it. I did a hard work that month, even though I didn't have enough time at that month. Now I hope to get my third payment, but I need to work hard, because this month I didn't work so good, and I hope to reach to minimum payout fast! Good luck to you my friend :)

• India
22 Mar 07
even i am going to reach my minimum target in two or three days. I think to get the first payout people work hard and then they become normal because somehow they got their first payout :)

• Indonesia
22 Mar 07
I have got payment from mylot twice first on january 15 and second in march 15, when i visit my e-gold account my ballacne has arise and i saw in the history i saw the payment from my lot $11.4,it is true,and it is depend on your setting if you set $10 you will get payment when you have reach $10 but if you set $100 so you will get payment when you have reach $100,it is proven on here at mylot ,i also be satisfied about the money that i have received.

• India
22 Mar 07
ok, i have made my minimum payout as 10$, so i think very soon, may be by tomorrow or day after tomorrow i will reach my minimum target. So how did you transfer your money from e-gold to your local bank?

• India
22 Jun 07
i have not yet received my first payout on mylot. i expect to get it the next month.