Weighing in- Still using a bathroom scale or have you thrown yours out?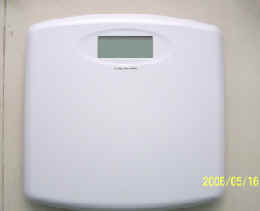 United States
March 12, 2007 5:05pm CST
I have heard recently from some diet specialists that using a scale to monitor your weight is not the best option. The new trend is to monitor your "belly fat" by keeping a close eye on your waist size. It is recommended that women's waist measurement should not exceed 35 inches and that men's should not exceed 40 inches. As can be expected there are still plenty of health professionals out there that agree that the scale is still a dieter's best friend. I know in my case, I used the scale quite frequently up until about 2 years ago after I brought my twins home from the hospital. I used the scale on a daily basis to monitor my weight gain during my three pregnancies. I really paid close attention to my weight when I was pregnant with my twins. I stopped using the scale for two reasons: 1). I was just too busy with 4 little ones to weigh myself everyday. 2). I did not want to become obsessed with the number on the scale- and concentrate on my overall health and feeling comfortable in my clothes. I still do not use a scale to monitor my weight but concentrate more on how my clothes fit. What about you? Do you use a bathroom scale to monitor your weight?
3 responses

• Australia
12 Mar 07
I do use the scales but only once a week. I find that if I check my weight on the scales any more than that, I get frustrated as it fluctuates. So I keep it to the same day every week and I go by this. I also take my measurements with a tape measure every 2 weeks. This just lets me see where I'm losing the weight. But I have to agree, going by the way your clothes fit is a great way and it is so rewarding when you start having more room to move.

• Philippines
13 Mar 07
i never once owned a bathroom scale. i'll know when i've gained weight coz i grow sluggish and heavy and my tummy spills out of my jeans. so i never did have use for one. lol!

• United States
12 Mar 07
I wish I had a scale at home, mine broke years ago and then for 3 years there was a scale at work I used. Now working from home I don't have one and it would help me to "keep an eye on things". Am going to have to put that on my list of "things to get".