I just adore her, what do you think?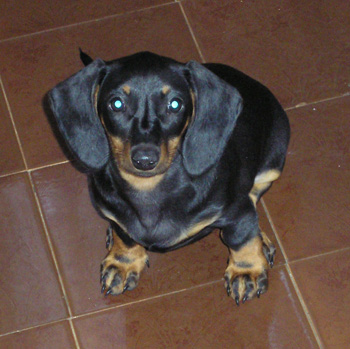 March 12, 2007 11:09pm CST
This is my little Larry, a dachshund. She is going to be one year old in april, but I don't haave any newer photos of her, so this is from the last summer. Do you like her? She is all shiny, soft and has such fat paws and short legs:}
2 responses

• India
14 Mar 07
She looks amazing!!! lovely coat and paws as you said.. I am also a lover of Daschunds..Have two cute ones at home.. One brown named "ELCI" who is 4yrs old and another black named "HONEY" who is 2yrs old... They are totally pampered with full of love and affection.. I celebrate their b'days in a beautiful way by cutting cakes and finally a desert of icecream.. Also take them for Dog shows and they have won so many prizes.. They are so precious to me.. I prefer Daschunds because their size is so small that they can be carried and hugged all through the years unlike other dogs..They are very smart and cute breed which are loved by most people...

•
27 Mar 07
Oh thank you Minuuu :} I would love to see your daschies too:) We are not taking Larry to shows, because we just wanted her to be our spoiled bed princess, though there are many professionalists who are trying to convince us that we have done wrong, because, as they said - she would stand the greatest chances of winning. However, she is so spoiled and "bad", that I think it would be impossible to teach her anything she doesn't want, LoL! Also, we got an offer with a potential "boyfriend" for her, so we might get puppies. If that happens, I am so afraid I won't be able to give them away :(