Upside down tomato gardening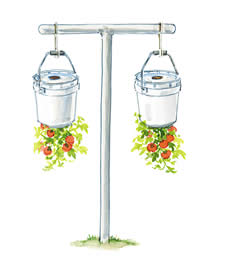 United States
3 responses

• United States
17 Mar 07
I heard about this last summer, but I've never actually seen anyone do it. It seems like it should work because the tomatoes always get so heavy and pull the stems and leaves down, so if it is growing upside down, it won't pull the stems down! I should give it a try this summer...

• United States
14 Mar 07
I have not tried this yet, but I have heard of it. I am interested in the responses myself. We love homegrown tomatoes, and last year we didn't have one good tomato to grow on our plants. They started off good and then nothing. Interesting topic A+

• Canada
24 Jun 09
I am going to try and build my own upside down planter to see if I can make it work. I think the only problem with it is the fact that hanging planters usually need much more watering so it will need to have a way to hold the extra water until it's needed. I think I can use horticultural Perlite. We will see how it goes. I know that without something like a water reservoir or perlite I had to water my hanging baskets about 2 or 3 times a day and because of that I took them down and planted them in the ground. If I learn how to build a reservoir that will let water drip slowly I will definitely go that route but for now I will just use the perlite. It will eliminate those nasty slugs that climb up the stalk and eat the tender leaves. I know that on the ground I can put tin foil on the stalks, that seems to work but hanging them will eliminate them all together. I am not sure what other bugs bother tomatoes. Last year was our first year with tomatoes and the only problem we had was with slugs.