chocolate to help me drink coffee?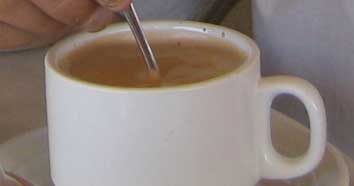 Norway
March 14, 2007 5:59am CST
A friend of mine from back in the college days once told me that he never really liked coffee but he started drinking it with a piece of chocolate on the side to drown the coffee taste which he didnt like. Thats how he started drinking coffee... im not a coffee drinker. I LOVE the smell of coffee but i just cant stand the taste. Have any of you tried the chocolate trick with your coffee? Does it really work? Not that i really wanna start drinking coffee and getting addicted to it but im just curious...
2 responses

• Singapore
14 Mar 07
Why you want to force yourself to live coffee anyway? It is strange since people are trying to *stop* being addicted to coffee. :P But yes, this trick works well - if you don't like something, eat it with something you like. It will help. ;-)

•
14 Mar 07

Strangely enough I was put onto a lovely drink by a friend of mine not long ago, she makes up a cup of hot chocolate with a small amount of coffee in it and it is gorgeous.