Is your cat spoiled?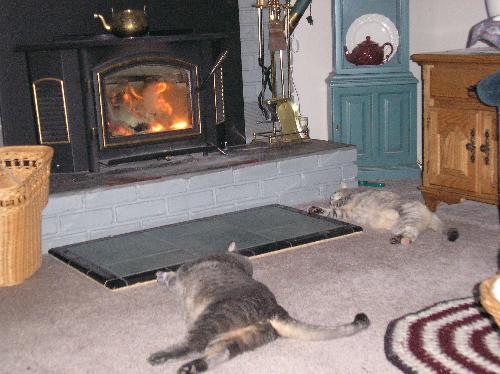 United States
March 14, 2007 8:19am CST
OK...tell the truth! Do you spoil or pamper your cat(s)? We have 2 cats...one female, one male. The female is quite a bit older, but also much smaller than the male. The female is 'alpha-cat', though she's not in any way a 'bullying' kind of cat, so they do get along well. They're both 'indoor cats', though we let them go out onto our 2 screened in porches on the back of our house. They love it out there; watching the squirrels, birds, etc. I must say our cats are quite 'spoiled'. We love them to bits, of course. And, they're now our 'family', now that our 3 daughters have grown up and 'flown the coop'. -Our cats love to sleep in front of a warm fire in the glass-doored fireplace insert stove we have. -They also love to sleep in one of our laps, if we happen to be sitting in our recliner chairs. -They also love to sleep on our bed while we're sleeping...although they won't both sleep there yet. -We also make sure we spend quality time with each one; brushing, petting, loving; so they feel equally important (and equally 'pampered'). So.....what about YOUR CAT(S)? Do you "spoil" them? Do you "pamper" them? Let's hear your tales!
4 responses

• Canada
14 Mar 07
Our pet fatty gets whatever he wants :) Hes a spoiled little sucker, well not so little. That's why we call him fatty though. He's HUGE. I would post a picture but I don't know how :(

• United States
15 Mar 07
All FOUR of mine are pampered and spoiled in their own little ways. They each have their own likes and dislikes and we cater to them completely. How nice it is to be a cat I often think.. its a lovely life. Yes! You must spend quality time with each one or there will be a cat-spat soon.. its funny.

• United States
15 Mar 07
lol.... Yes...it's a lot of fun. We once had as many as 5, but that was too many for us. We now have 2...male & female. They get along very well, though they 'keep their distance' too. They're not the kind that do too much 'cuddling' together, y'know? But they're lovable anyway, and pampered too! Thanks for the post.

• United States
14 Mar 07
My moms cat is probably the most spoiled cat I know. He actually eats up on the counter with his own special plate. He doesn't need his own bed, b/c he sleeps right next to my mom. He really is spoiled!!

• United States
14 Mar 07
LOL...thanks for the post. Sounds a lot like many other cat stories (see responses to this discussion). One of our cats likes to jump up on the counter when he knows we're getting ready to feed them. Like he wants to see what's on the 'menu', y'know? Thx again.

• Australia
14 Mar 07
My two cats are very pampered. They are certainly treated more like humans than they are as cats. They sleep wherever they like, be it on the lounge, our beds, or under our beds. They get food whenever they ask for it. They have warm milk for breakfast every morning (this isn't good for them, but my father gives it to them anyway). If they want to sit on my lap, they do. They sit next to me and watch me while I'm on the computer, and they watch TV with me. My cat's can do no wrong by me. They are angels, no matter how much trouble they get into. They know me better than anyone else does, and they are my best friends. As such, they get the same respect as my friends and family do.

• United States
14 Mar 07
AMEN to that! You describe many things that are similar in our home, like the feeding when they 'ask' for it; the thought that 'they can do no wrong'; and the thought that 'they know (us) better than anyone else and are (our) 'best friends'. And, we, too, respect our cats as you say here. Thank you for your post...and "Keep on Pampering"