Tequila Sunrise Cupcakes!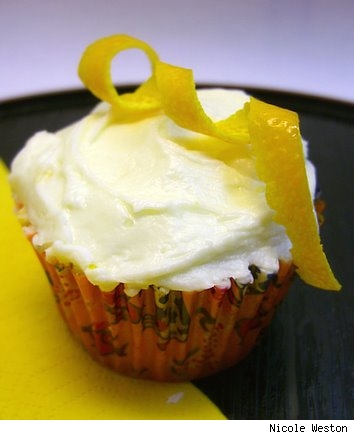 United States
March 15, 2007 2:37pm CST
Tequila Sunrise Cupcakes (adapted from Vegan Cupcakes Take Over The World) 1/4 cup orange juice (fresh, if possible) 2 tsp orange zest 1 cup soy milk (plain or vanilla) 1/4 cup vegetable oil 2 tsp tequila 1/2 tsp vanilla extract 1 cup sugar 1 1/3 cup all purpose flour 1/4 tsp baking soda 1/2 tsp baking powder 1/2 tsp salt Preheat oven to 350F. Fill a 12-cup muffin tin with liners. In a large bowl, mix together orange juice, orange zest, soy milk, oil, tequila, vanilla and sugar. In a small bowl, mix together flour, baking soda, baking powder and salt. Add to orange mixture and stir until just combined. Divide evenly into muffin tins. Bake for 20-24 minutes, until a tester comes out clean and the cakes spring back when lightly pressed. Turn out onto a wire rack to cool completely before frosting. Frosting 1/4 butter or nonhydrogenated shortening, softened 1 tbsp soymilk 3 tbsp lime juice 1/2 tsp grenadine 1/2 tsp orange zest 1 tbsp tequila 2+ cups confectioners' sugar maraschino cherries or strips of orange peel, for garnish Cream together butter/nonhydrogenated shortening (depending on whether you want the frosting vegan or not), soymilk, orange juice, tequila, grenadine, orange zest and 2 cups of confectioners' sugar. Add in more sugar as needed to make frosting stiff, but spreadable. Spread on cupcakes and roll the edges in a small amount of coarse, colored sugar (poured into a small bowl, so it's easy to direct it. I got the recipe here http://www.slashfood.com/2006/12/31/tequila-sunrise-cupcakes/
2 responses

• United States
24 Mar 07
This is so cool. You have such unusal receipes and names. I love them. Thank you so much for giving them out. Bless you and a +++ rating for you again.

• United States
18 Mar 07
Yum! Those sound really good, I need to bake some cupcakes!

• United States
23 Mar 07
They were yum! Better than the Margarita ones. Go easy on the powdered sugar in the frosting - it's really sweet.