What time of the day do you take your vitamins?


Philippines
March 16, 2007 12:00pm CST
Is there really a BEST time of the day to take your vitamins or mineral supplements? OK. I take my vitamins everyday...but I don't really have a set time to take vitamins...sometimes I take them after my breakfast, sometimes after lunch or after dinner...:P and funny coz often it's my mom who keeps on reminding me to take my mineral supplements..lol a mom reminding his 25-year old son to take his vitamins.. lol well, i know a couple of people who are religiously taking their vitamins after breakfast as they say it could help them get the energy they need to kick the day off... and my girlfriend takes hers after dinner coz she's working night shifts and thought the same thing, that her vitamins could make her alive at work... now, can't we take vitamins before going to sleep? I mean, is it really better to take them before starting your day? is there really this thing called the optimum time of the day to take our mineral supplements or vitamins? please share your thoughts..:P Godbless!
8 responses

• United States
16 Mar 07
I always get up and eat breakfast,which is the most important meal of the day by the way...and have coffee...then I usually take my medication,and my vitamims.i take a b-complex liquid, Flaxseed oil gell tab,Msm with glucosamine for the bones,vitamin e.and at night before bed i take something to keep my colesterol in check...I don't really know if a certain time of day makes a difference or not...I do it in the morning becuse if don't i will forget..

• United States
16 Mar 07
As far as I know there really isn't a good time to take vitamins, I mean anytime is fine. I know a family which takes their vitamins right before going to bed..go figure..lol I too have no fixed time and take them when I remember. I don't understand why we forget all the time..after all its just vitamins..hehe Now this reminds me, I haven't taken them for today..so off I go to gulp them down:)

• Philippines
16 Mar 07
LOL thanks for clearing out some of my doubts, greengal...and am glad I made a good reminder to you...hehehe Godbless!

• Philippines
20 Mar 07
i think vitamins are more effective when you take them before going to sleep, because your body is at rest and it wouldn't intoxicate your system.. and that vitamin will take effect on the following day.. this is according to my experience.. lolz.. when i take multivitamins on an afternoon, i often feel sleepy.. i think it is the side effect of the vitamin, that is why i take it before i sleep.. ;)

• Philippines
19 Mar 07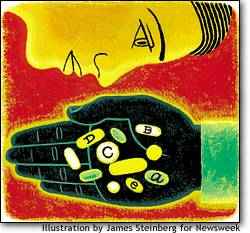 When I was a kid my mom always reminded me of taking my vitamins after breakfast... but now that am leaving with my younger brother here in the city, I hardly take them in a fixed schedule...I mean, sometimes I take my vitamins in the morning after breakfast or sometimes at night after dinner. Anytime of the day now, depends on what time I remember taking my vitamins..:P




• Singapore
16 Mar 07
I think vit C at least has to be taken with food. This is to "cheat" the body into thinking that it is something found in the food originally. For herbal supplements, I think you have to take them on an empty stomach.