here's a deeply-moving thought I got about abortion... THINK ABOUT IT.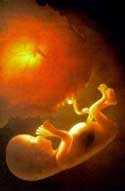 Philippines
March 16, 2007 9:00pm CST
"How can the dream survive if we murder the children?"~ Dr. Alveda King, niece of Dr. Martin Luther King [college professor and pro-life speaker]
5 responses

• United States
17 Mar 07
It's a good thing abortion only terminates a fetus, then. And you are obviously unaware of the fact that women have been terminating pregnancies for centuries.

• United States
18 Mar 07
abortion is something i feel strongly about. my point of biew is you want to kill the kid, let me blow off your head with a 12 guage shotgun. same outcome for the baby

• United States
19 Mar 07
That's disgusting. A first trimester fetus has no nervous system and no brain and therefore has no thoughts, feelings, emotions, sensations or even knows that it exists. A woman, on the other hand, is quite commonly a fully gorwn, fully aware human being with thoughts, and feelings. Sorry, sister, but that is a BIG difference. I bet you also think it's better for women to just kill themselves if they don't want to carry a pregnancy. The fetus is more important that the woman, right?

• Germany
18 Mar 07
I think in some cases abortion is the better solution than carrying out a child that has absolutely no perspectives, for example if the mother is very young, still goes to school etc.. There are so many childs out there that are unwanted and therefore unloved. You need to have the right conditions to raise a child.