Tell about your wedding plans? if you are already married tell about your day

United States
March 17, 2007 3:29pm CST
I love to listen to stories about Wedding days. Was it fun? Did everything go as planned? Did something happen to ruin it?
5 responses

• United States
17 Mar 07
23 years ago we met in March. We did get married in November that same year. We had an interview with a preacher, ordered the cake. I found a white dress with macrame around the neck and it was a layerd type dress. Well on the day in a bowling alley we were preparing and fortunatly his mother had called about the cake. They did not have it ready. Well it was ready that evening when we were married. Talk about fresh cake. We were married on the concourse while the bowlers stopped. Everthing went well and we had our reception in the meeting room. A crock pot held something I don't remember now. We danced and ate cake and toss a symbolic bouquet since I carried a fan with silk flowers on it. Must say since his cousin took pictures that all went really well. Most of our marriage has too.

• United States
17 Mar 07
we got married on November too. Nov 27th

• United States
18 Mar 07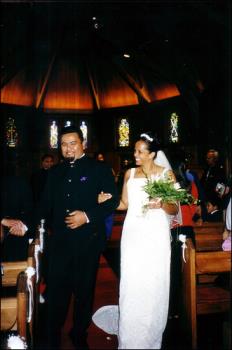 Well, my hubby and I got married in 2001 in Papakowhai, Wellington, New Zealand. We were living in Samoa at the time and most of the arrangements were made online or via email through my family and inlaws. Without my sister, mom, mother in law and sister in laws, I would not have been able to have the wedding we had. Two of my Aunts made my dress and gifted it from the family - it was beautiful and exactly what I wanted. The wedding was very simple and not extravagant at all, which suited us both. Besides running 1 hour late to the wedding (and it wasn't my hair that got us there late either LOL) everything pretty much ran smoothly and the money we and family members invested was well worth it.

• United States
18 Mar 07
Our wedding day was supposed to be very special, except that my husbands family showed up. It was lovely, regardless. My husband is Scottish and Irish, so he and his best man wore kilts with their family tartan on it. One of my favorite teachers played the bagpipes for our ceremony, and another friend of mine was our minister. We got married and had the reception all in one place. There was a fireplace and it was lit with candles. We didn't have the money for a DJ, so we had CD's made with our songs on them for each dance. My mother in law is the devil, and kept turning it down because their family was complaining it was too loud. (we needed to hear the music to know which dance was coming up...and she knew it) And then she turned the firplace off because my husbands grandmother wouldn't move to the other side of the table when she got too warm. We had those disposable cameras on each table, and the one at my husbands family was pictures of them making faces, and nothing from our wedding. They wouldn't even talk to my family. Luckily, my older brother could make it, even though he is in the Army. And most of my old friends from where we grew up showed up. The best part was the fact that I was seven months pregnant when we got married, so our son was their too! It was very nice, even if his family TRIED to ruin it.

• United States
18 Mar 07
My husband and I got married in May 2005. He's in the Air Force, and had a big test that he had to pass before he could actually take leave. He didn't take it until like three weeks before the wedding. So of course the invitations were already out. Luckily, he passed and got to come home. We had a medium sized wedding. It went pretty well. My husband did forget my ring, though. So we had to use a different one that I always wore on my right hand. The only other thing that happened was that my niece started picking her petals back up after she got up to the front. She was just barely four years old at the time. And she had to pick them up in the rehearsal, so she thought she was supposed to. Everyone just thought it was really cute, though.

• United States
28 Mar 07
We got married almost 3 years ago. It was a big wedding. I loved making the plans and getting all dressed up. I wore a halter top dress and we got married on May 15th of 2004. I had 9 bridesmaids, 9 groom, 2 best men, and 2 maid of honors. The service was great! We had communion, salt covenant, and candle lighting service. We had a live band at our reception and everyone said they had so much fun. We took lots of pics and I was so exhausted that my husband and I slept for three days lol. We were glad that it was finally over.