There's crap in my basement...........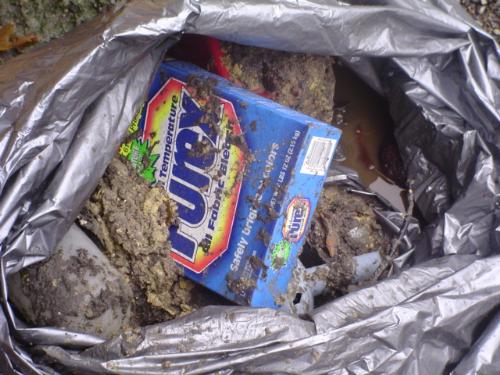 United States
March 17, 2007 9:01pm CST
Have you ever had a sewer back up in your home? Gross! A few years ago we came home and as soon as we walked in the back door we new something was wrong. The sewer had backed up through a floor drain in our basement and Geez, what a mess. It was really digusting. We had to call the city, the insurance company, and find a cleanup crew. It was the most disgusting thing I have ever seen. We lost so much stuff. If you do not have a rider on your insurance coverage then they will not cover a sewer backup. We live near several fast food restaurants in my husbands family home. We kept the same house insurance and just transferred to our name. Luckily my mother-in-law had included sewer backup coverage. Even so, they do not cover near enough to replace everything. We had to have carpet torn out and walls too. Take a look at the photos........
5 responses

• United States
24 Mar 07
The only thing that I can recall like this was many years ago when my Dad and I had the septic system get over full. It smelled awful. Fortunately it was outside, and in the winter , up north in Michigan. I hate to think how bad the smell would have been in the summer.

• United States
8 Apr 07
Oh that would have been soooo gross! I'm glad if it had to happen it was in winter for you.

• United States
26 Apr 07
Thank you for the "Best Response." I can still remember the smell. This was in a rural area. It was several years later that the area went to city sewage and water. The only smell that I can remember since then was the time a patient in the hospital that I worked at who came in for a bowel resection. The responsible individual failed to give the required enema to the patient. That was a really bad smell.

• United States
10 Apr 07

Tess, Crap goes so well with your Avatar!Before I moved into the apartment that I live in (in a very old Victorian house) the same thing happened. The woman that I rent from and her adult daughter live in the rest of the house. She told me that when it happened to her, she was in the basement shoveling poop and her daughter was upstairs when the next-door neighbor dropped over for some tea. Instead of saying that her mom was busy, she brought her to the bottom of the basement stairs where my landlady/friend was forced to have a conversation with my next door neighbor while shoveling sh*t. Then, there was this weekend! My dishwasher broke last week so my landlady/friend decided that instead of replacing it with a new one, she would replace it with hers....problem was....she nor her daughter, nor her son who was in visiting are professionals at doing this. The dishwasher made it to my side of the house, but something happened in their area that made it necessary for the water to be shut off from around noon on Saturday to 7:00 am on Monday. I am suffering from a bout of diverticulits right now and one of the symptoms is ----- (you really don't want me to say, I'm sure you know!)~Donna

• United States
11 Apr 07
Oh Donna, you poor thing! I feel for you. My husband has had problems with diverticulitis. Not as bad since he had to have surgery though. About 10 years ago he spent a year always sick, running fever and in pain in abdomen and bowels. His doctor kept giving him muscle spasm pills. Finally I blew my top and forced the doctor to give a referral to someone else. I said bad words to my shusbands doctor, to his face! Even I was shocked! That same day he was in surgery and they removed 6 inches of his colon. It was infected bad. Do take care of yourself dear. It sounds like you have a very interesting landlady/friend full of fun character. Never a dull moment so to speak, ehh?

• United States
9 Apr 07
I've only seen things like that on shows such as Extreme Home Makeover. Where a family's sewer system went bananas and they couldn't afford to fix it. Which let to rot and mold... Did you add another part to your insurance in case it ever happened again?

• United States
11 Apr 07
Oh yes, we sure did! Plus we sued the insurance company for the Public Works system and we got a pro-rated amount to help with repair costs. Not enogh to cover it all but it did help. We decided to paint the cement floor in the laundry room instead of recarpeting as that is where the drain is.

• United States
17 Apr 07
Yup that is exactly what it looks like. Our big spill wasn't in our house, it was in the apartments we owned. The sewer shared by four units backed up into the parking lot. One of the tenants, instead of calling us to report the problem, called the local health department and filed a complaint. They gave us 24 hours to clean up the mess or pay a $20,000.00 fine. We couldn't get anyone to come out on a Friday night so we suited up -- rubber boots, rubber gloves, goggles, masks and the oldest clothes we had -- took shovel and broom in hand and cleaned that crap. I'm getting ready to buy a house and will definitely look for that rider on my insurance.

•
26 Apr 07
I am so sorry you had to go through this , we have very few houses in Scotland with basements , It must have been terrible the smell going all through your house , thank goodness your husbands family had insured you for such a thing or It could have broke you , take care and I am so glad it is all over for you now xx