DIY home improvement. What are you doing this year.

United States
March 19, 2007 12:08am CST
Do you like DIY projects? I do, I love them. I have alot planned to do this year, on a tiny budget. I am going to build a patio out of bricks, that I am getting for free from a construction site, it is their left overs. I will pay about $20.00 for sand and another $10.00 in gas to go get the bricks as they are 40 miles away. I am clearing out my house and garage this spring. Going to make different piles for our stuff. Keep, throw away, give away, rummage, and an ebay or local auction house pile. With the money made on this, we are hoping to have enough money not just to convert the garage into a fourth bedroom for our house, but to also add a second bath. We don't care if its fancy. I want to do it for cheap. I looked today it would cost about $500.00 for a toilet, sink, a shoer/tub combo and for the additional pipes. The main cost will be for lumber unless, I can find that for free also. Oh and I will be looking for that too. I can't afford to move, so I am going to make my home into my dream home. It may take a few years, but each year, I make some major improvement. This year is going to be the best improvements that I have made so far. So what are you doing this year? Do you even enjoy DIY project?
4 responses

• Philippines
19 Mar 07
I have been doing this stuff year in and year out. I haven't got much choice. We are always working on a tight budget. The little that I can spare are used to buy the materials needed then my son and I supply the labor part. If it requires the strength of a man, we will hire a help from one of the neighbors. Our house is in a bad state of disrepair. The little that we can do each year, make it home enough for us.

• United States
24 Mar 07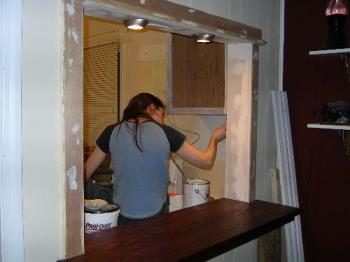 Well, once we finish off the kitchen (or the never-ending project, as we like to call it) we are going to redo our computer room. We already took down the suspended ceiling and have screwed sheets of drywall on the ceiling to level it out. Next is mudding the seams and then onto fixing the window sill and painting the room. I think we are also going to build another closet in here, because all the closets are small in the house, and there is an unused corner in this room that would be good to put a closet in (we already pile all our junk there anyway, I just want to put walls and a door on to hide it!). My worst problem with all our DIY projects is that we are forever starting one before really finishing the details on another. Like, we put in crown moulding in the living room about 2 years ago; still haven't painted it yet... Hopefully, since my BF has the summers off, and I work less hours, too, we will get these little projects done before the fall.

• United States
19 Mar 07
We are hoping to rebuild our house this year. We need a bit of cash put together and we can get the roof on and the volunteer help can get indoors and reframe the portion that needs it. I do enjoy creating new things out of old and perhaps if we can get back into our house then I will be able to do more of that kind of thing. Wish us luck, we could use it. We wish you much luck. Let me know when you sell some things. I am an Ebay store owner and love to see my friends sell things. Sometimes I can help.

• United States
19 Mar 07
I think you only need to worry that your projects will be half done and never fully completed. I like to do my own projects a lot.