EVer been to a C*ck Fight?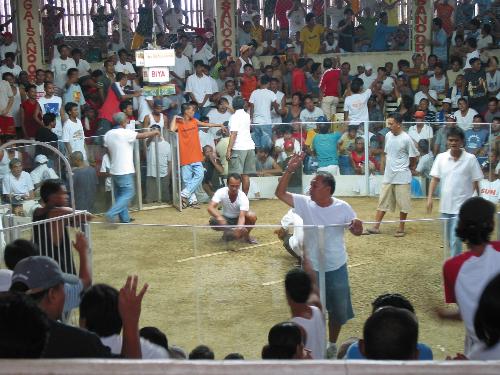 Canada
March 19, 2007 7:33am CST
Lol ok i mean c*ck(roosters) fighting which is very popular in the Philippines. The first time i went to one is the next day after my wedding. You see, i have a bunch of Canadian friends and new family who havent seen a c*ck fight before. So they wanted to have the experience of it. And that day was just perfect time for most. Well, my girls and I havent seen one either in our 25 years in this world.:) So to be dragged to a C*ck Pit was also our first time. It was a whole new experience as well to see all these men suddenly around us shouting and betting at each other from one of the room to the next. I still couldnt understand how they are able to remember who bet with him and how much:) All i remember is that one minute it was all quiet, arena being cleaned, roosters being prepared to men shouting and betting so eagerly that we were just "Huh? What does that mean?" Some guy kept eyeing on us too. He wanted us to bet and i am sure especially with 4 canadian guys and one canadian girl it would have spelt money for him. But we didnt. We just dont want to get in trouble. So we got our c*ck fight which i may say was another "huh?" to me. I was like that's it?:P It was over in a minute. Hehe.. wish i can show mylot some videos here. Check out the pic instead.
2 responses

•
19 Mar 07
I can't believe that c*ck fights are still allowed in the world. It is so cruel. People actually get pleasure from watching these animals kill each other? How sick.

• Philippines
19 Mar 07
That must be a great experience for you, i myself never entered a place like that. Gee... were you not lost in the crowds?