Why do you love being married?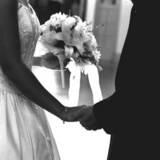 Philippines
March 19, 2007 8:02am CST
Hi people.. i just need some of your points of view on married life. My boyfriend and I were having plans to get married the following year and i have this aprehension if our love could really sustain for a lifetime. Please share it to me how happy and sad life to be...
1 response

• United States
19 Mar 07
I do not know how long you guys have been together that is an important thing. I have been together for a little over a year with my wife but I have looked for her for my whole life. We have 2 children with one on the way.With us it was automatic and natural everything was smooth and there was never any doubt in my mind that we should get married. The one thing we did was make the committment that if things got rough we would seek every possible means of help and not quit. I was in a relationship for a long time ande am not a fool I know how bad it can get and that is why that committment to work is important to us.We have challenges everyday she is finishing a masters degree in business working full time and pregnant, I run a online business and take care of the kids during the day WE HAVE STRESS! but we both have committed to work Maybe that will answer your ? a little you never can predict the future but you can make a plan on how to approach your relationship.