a myth or not?????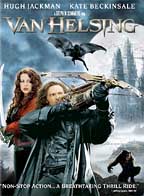 India
March 20, 2007 8:10am CST
does anyone think that van helsing could be a real story.. or not????????
5 responses

• United States
20 Mar 07
As for the story, it was most likely derived from someone's imagination and inspired by all the Dracula books and movies that already existed. The character Van Helsing may or may not have existed but if he did, his story has been much fictionalized.

• Pakistan
20 Mar 07
The character Van Helsing is derived from the fiction book Dracula written by Bram Stoker! The story and the character are both a work of fiction.

• India
23 Mar 07
its good that you've known about it...but how did you get to know of it???????

• Philippines
27 Mar 07
its a big myth. such characters and creatures doesn't exist

• United States
25 Mar 07
For as long as I can remember there have been vampire stories, and for every bad guy you have to have the good guy so we get Van Helsing. Since it is a work of fiction I don't think it is a real story, but it could have origins in a ral story somewhere. Most fiction has roots in reality somewhere. As for the current Van Helsing movie I loved it because it was very well done. The implication that Van Helsing was the ancient religious 007 type was really funny.