Can Snakes Die Of Their Own Venom ?

March 20, 2007 10:41am CST
Have you heard of a snake dying from it's own venom? Presumably not. Snakes bite themselves all the time while hunting their preys.Yet,it doesn't affect them. Cleopatra is believed to have died of snake bite though there are a few other theories throwing light on her death. If snakes venom doesn't affect their bodies, then can studying their immune teach us how to become resistant to snake bites? Do you think in future there is a possibility of snake bites becoming non-lethal for humans?
9 responses

•
20 Mar 07
Like you, I've never heard of a snake dying from it's own venom, but I've also not heard of a snake biting itself either, when they catch their prey they are biting the prey and injecting the venom rather than biting themselves. However, if you mean why doesn't the snake die after eating the prey into which the venon passed from the snake, then I presume that's the same reason the snake doesn't die from having venom in its body to start with. A large part of this is probably down to the immune system and genetic makeup of the snake, the same would be true of spiders and other venemous creatures. Human's do not have the same genetic makeup as a snake, just as we don't for a bee, or wasp so their defence mechanisms still affect us, but mostly in limited ways. Snake bites will always have the potential to kill unless there is a vaccine created which ensure we humans build up our own immunity to the toxins. At least that's my take

•
20 Mar 07
Yes,Bananamanuk.I was talking about snake biting themselves.One programme on discovery wasshowing that snakes bit themselves ,but it didn't affect them.Just as you pointed out,I was thinking what if the dna is extracted from their body and the immune built is studied so we could know why they are resistant to their own venom.Hopefully there will be some way to learn it.

• United States
27 Mar 07
I watching the Discovery Channel from time to time and this is my thought to it. I believe a snake won't die from his own venom because he produce it. It's already in his system, he is immuned to his own posionious venom. Now the real question would come in if another deadly venomous snake bit the other snake, would he die? Look at you having me dig deeper into my thoughts this evening..lol

•
27 Mar 07
lol and you keep doing it every evening to me .What about that ?:-P Just kidding,lol.

• Pakistan
26 Mar 07
Never, I don't have any intrest in snakes also so you might search it out in http://animalworld.com This site might help. Plus you may also visit the animal planet and animal kingdom sites. It's easy to get answers from there but i'm now rather inrested to know this. I heared that they don't die because of thier specaility in I don't remember what and their tongue having something in thier mouths enterance. Thank you that's all I know.

•
27 Mar 07
Thanks for the link,Omer.I will check it out. Yes,the snakes have their venom in venom glands which are connected to their fangs in their jaw by ducts.Thanks for sharing your thoughts :)

• United States
26 Mar 07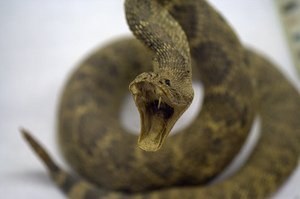 No we could never have what they are born with. It is complicated because it deals with their cells and a protection of protein covering each cell. That is why some snakes do not die by other snakes venom, but some snakes are killed by other snakes. Here is what I found on the subjuect. All venomous animals have some kind of protection of their own venom, some have protection against other species venom but not against all of them. It is like a protein cage that built around the venom that protects the rest of the cells from it. That is just the way they are born that way. That thing prevents the venom from attacking its own body.

•
26 Mar 07
Ah, Thanks wmg! I knew about their RNA(protein) structure that makes their body resistant to theirown venom ,but didn't know about the protein coat around the venom itself.You added to my knowledge.Thanks:).I would try to read more on it.

• China
24 Mar 07
wow,i got a dictionary to see your discussion,and i think your idea is feasible,maybe some scientists are working on it now,but,now,snakes are a kind of animal we need to protect,there are not so much on the world,especially those poisonous ones.

•
24 Mar 07
:)I ,too use a dictionary when I find it tiring to search my mind,hehe.I am sure you would need less of it as you move along.Yes,some variants are slowly nearing extinction and they need to be protected which can only happen when ecology and environment lovers make an effort and if there is the feasibility of protection from venom in future ,then this effort might become less frightening.

• Philippines
23 Mar 07
This is a nice post, bluewings... though I haven't heard of any snakes dying coz of their own venom, I was amused what their venoms can do to cure some illness... maybe that's only a sign that someday soon, in order to cut down the risk of humans dying because of snake bites, we could possibly get a few shoots of venom injected to us which would somehow be getting into our immune system. :P

• Philippines
21 Mar 07
Astounding theory buddy! Sorry if was not able to respond to some of your discussion been so busy with work and law school. I never heard of a snake dying on it's own venom but I heard venom have some medicinal purpose to humans, and I really think with advance technology we have there is possibility that human can develop a injected shoot to be able for us not to be poisoned by a snake venom.

•
21 Mar 07
No problem Maribel:) Yes,I , too have heard venoms being used for curing several diseases.If the possibility becomes a reality in future ,then the people working with snakes won't have to feel threatened of losing their lives. Goodluck for your Law exam:)


•
21 Mar 07
I wish I could disagree, but it's not true for all of us:) Thanks.

• United States
20 Mar 07
Have not heard of them dying of the venom. Cleopatra had a nastier snake. Different snakes have differenet potencies of venom also. All different enough to require different antivenom serums. Not sure if that possibility would ever be truly needed. We are slowly killing off the animals. Taking up their space too.

•
20 Mar 07
I know what you mean and if we keep doing that ,then we would end up destroying the ecological balance and hence,us.Just hope that we act with a foresight.