Brownies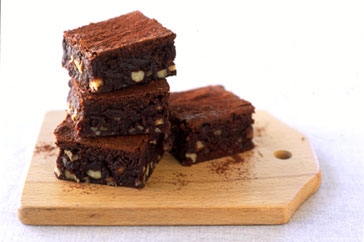 Australia
March 20, 2007 1:41pm CST
Sometimes the only way to get through the middle of the week is with something ridiculously chocolaty. These brownies will do the job. Makes 12 Ingredients 140g unsalted butter 200g dark chocolate 200g light muscovado sugar* 2 tsp vanilla extract 2 eggs 1 egg yolk 85g plain flour 75g walnuts, lightly toasted, chopped Sifted cocoa powder, to dust Method Preheat the oven to 160°C. Grease and line the base of an 18cm square cake pan. Place the butter and chocolate in a heatproof bowl over a pan of simmering water (don't let bowl touch water). When butter and chocolate have melted, remove from heat and allow to cool slightly. Beat the sugar, vanilla and a good pinch of salt into the mixture. Whisk in the eggs one at a time, beating well after each addition, then add egg yolk and flour, beating until smooth. Fold in the walnuts and pour mixture into pan, smoothing the top. Bake for 40 minutes or until a skewer comes out with a few moist crumbs attached (not sticky batter). Allow to cool, then turn onto a wire rack and peel off lining paper. Cut into 12 neat squares and dust with cocoa before serving. Notes & tips Substitute with brown sugar. Note: Brownies will keep for 2-3 days in an airtight container in the fridge or can be frozen for up to 2 months.
8 responses


•
6 May 07
Well, I made these brownies, now, how do you make them last two months with vultures in the home? Seriously, they are yummy! And, before my friends say about me being limited in the fat/sugar quotient, trust me, I only got ONE, and I had to fight for that lol.

• Philippines
29 Mar 07
hmmm reading your discussion made my mouth water. i really really love brownies. especially when it's moist and chewy but not too chewy with that rich chocolate flavor. hmmm brownies could reallly be your way out of a bad week.

•
21 Mar 07
Now you have found a recipe that I love. There is nothing like homemade brownies. This is one thing that I always seem to have all the ingredients for. Thanks for this one!



• Singapore
20 Mar 07
Oh, I do love brownies a lot! But I very seldom eat them. I only get them occasionally when I choose desserts at restaurants. :P