The day you. . . "came out of the closet"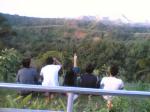 Philippines
March 21, 2007 9:21am CST
How was the feeling? Few would admit it ofcourse...only those who have the guts to spill it out. And accept the reality... It just how you see the views of whatever will come out for the results and on what your expecting after it happens. Now what am I trying to say here is... that simple not-so-deffensive way of saying..."Im not gay!...am I" "Isn't He? or Is not he?" This is one of the greatest story each and every one will ever told.........(except for the straights). Why bother... the world is waiting.
No responses