The all in one vegetable

Saudi Arabia
March 21, 2007 9:38am CST
There is a study about a vegetable named ampalaya in tagalog or bitter melon in english that this is a medicinal herb, it is very good in diabetes, it is a food supplement that helps to reduce blood sugar. So if you are a diabetic person, why not try to eat this kind of vegetable. All vitamins that you can found in other vegetables are all present in ampalaya or bitter melon. Like for exmple the calcium found in an eggplant, you can also find it here.So, what do you think? You can try it, anyway, there will be no harm in trying to eat this bitter melon. Hope I can help.
1 response

• Philippines
21 Mar 07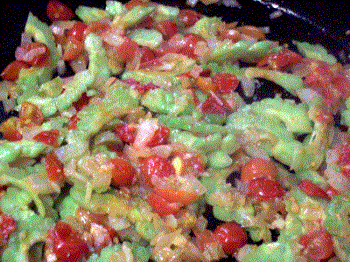 thanks for posting this one here, paulo... hope this will be read by many of our fellow mylotters here as this is really helpful...:P and yeah, I love eating ampalaya especially when it's done with some eggs...and it's one of my favorites..:P My dad is a bit diabetic and he often have ampalaya..

• Saudi Arabia
23 Mar 07
I you watched the show of jessica sojo, she features the nutritious facts of this ampalaya. Me myself don't like this vegetable, but after watching her show, It comes in my mind that I should eat more of this all in one vegetable. Anyway, I like the way you cook ampalaya, I think I will crave for more rice. lolz.